Nivea put up an ad praising "white purity" — the backlash was swift and severe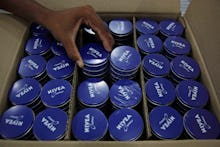 If you took a quick glance at the latest Nivea ad to appear on Nivea's Middle East Facebook page to promote its Invisible for Black and White deodorant, maybe you wouldn't see what all the fuss is about right away. 
The ad shows a woman sitting with her back turned, wearing a white robe, with her dark hair flowing down her back. But then if your eyes wander towards the bottom of the ad, well, you'll get it. 
"White is purity," it reads. 
The caption for the image on Facebook? "Keep it clean, keep bright. Don't let anything ruin it." 
In another ad for the same deodorant, which still appears on Nivea's Middle East Facebook page, the captions reads: "Believe in Invisible for Black and White from Nivea. Black stays black. White stays white." 
Similar to the #BuyUnderArmour hashtag that began trending after Under Armour CEO Kevin Plank offered unabashed support for President Donald Trump in February, the ad almost immediately caught the eye of many members of the "Alt-Right," who saw the ad as a wink to their movement.
There were threads by white supremacists not just on Twitter, but on sites like 4chan too, calling for increased support of the brand.
Other than them though, people weren't so thrilled — at all. 
This isn't the first time Nivea has come under fire for a racially insensitive ad either. In 2011, Nivea ran an ad that showed a black man throwing a human head above the words "Re-civilize yourself." 
Amid this current backlash, Nivea has pulled the ad, and apologized. On Twitter, the brand responded to individual upset users. 
"The Nivea Middle East post was not meant to be offensive," one tweet read. "We apologize. It's been removed. Nivea values diversity and tolerance." 
The ad is especially egregious considering that Nivea has a growing market share in many nations with people of color, including South Africa and Japan, according to Beiersdorf's 2016 annual report.
In a formal statement to the Washington Post, Nivea's parent company, Beiersdorf Global AG, doubled down on this apology. 
"That image was inappropriate and not reflective of our values as a company. We deeply apologize for that and have removed the post," the statement read. "Diversity and inclusivity are crucial values of Nivea. We take pride in creating products that promote beauty in all forms. Discrimination of any kind is simply not acceptable to us as a company, as employees or as individuals." 
But still, the question remains: How did this even happen in the first place? As many pointed out on Twitter, much like the most recent controversial Pepsi ad, the ad's existence may hint at a lack of diversity within the team that created this ad. 
That's at least one explanation for such this Nivea ad, one of which was removed, while the other one for the same deodorant still stands for all to see.