Is 'Arrow' new tonight? When to watch season 5, episode 19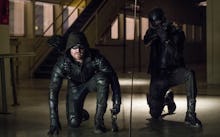 It took a while, but Oliver Queen and the rest of Team Arrow finally scored a much-needed win in their season-long battle against Prometheus. In episode 18 of Arrow, following the previous episode's dramatic torture session, Oliver decided it was time to give up the hood for good — so naturally he called the Bratva and put a hit out on Prometheus, aka Adrian Chase. 
Thankfully, our hero did not fully go through with such a dark progression. After a solid pep talk from John Diggle, Oliver decided to rejoin Team Arrow and stop the Bratva. Thanks to Felicity and her new pals at Helix, the team was able to deliver a crushing blow to Chase by outing him to the world as Prometheus — with evidence. 
Now, all eyes are on Chase and what he will do now that his back is against the wall. For a villain who has been so dangerous and menacing all season, it is chilling to think about what he is capable of when he is truly desperate. Unfortunately, we will have to wait a few weeks to find out for sure, because Arrow, like The Flash, is taking a short hiatus, and will not return with new episodes until Wednesday, April 26. 
When Arrow does return, though, not only will the team have to be on the lookout for Chase, but it seems that Felicity's ties to Helix may finally put her in a position where she has to make some difficult choices — and Team Arrow may not react so well. To hold you over until April 26, check out the promo for episode 19, titled "Dangerous Liaisons," below:
Mic has ongoing coverage of Arrow. Please follow our main Arrow hub here.