'RuPaul's Drag Race' Season 9 Predictions: Which queen is on top after week 2?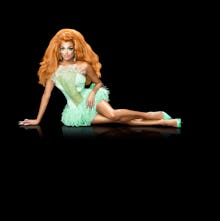 The second episode of RuPaul's Drag Race's ninth season saw one queen return and one queen go home, leaving us with the same number of contestants as the week before. But while the sum may not have changed, its parts have vacillated wildly, with one queen rocketing up the chart after her performance in the cheerleading challenge.
Let's break down where the queens stand in the rankings heading into Friday's third episode, where the girls will be expected to come up with makeover looks based on princesses and their sidekicks. Who's in position to make it all the way, and who's utterly forgettable?
Also-rans: The clock is ticking down on Kimora Blac and Charlie Hides. Additionally, I'm starting to wonder how long Aja is for this competition; she's cute and clearly has talent, but she's been almost invisible in the edit and is consistently fucking up her makeup.
On the cusp: I don't totally believe in Trinity Taylor yet, but last episode's combination of great runway look and strong challenge performance means she's fully out of also-ran territory. Peppermint and Farrah Moan continue to be major presences in the show without really serving in the challenges. I also have to ding Alexis Michelle for being this season's major performer queen, yet failing to finish in the top three of the first performance challenge.
Possibilities
Eureka is starting to get a more villainous edit, which could mean one of two things: She's in this until the end, or she's gonna be a mid-season out in a dramatic lip sync for your life. Right now, I'm banking on the latter, although I'm getting increasingly annoyed with her hair in drag, which always looks like a column of wig glued onto a bald head. It's a fun look once, but we're seeing a lot of it from her.
5. Cynthia Lee Fontaine
I don't know how far Queen Cucu, our returning contestant, is going to go. But it's a safe bet that RuPaul and the Drag Race production team are going to want to keep their returning champion around for a while.
4. Nina Bo'Nina Brown
I'm concerned about Ms. Bo'Nina Banana Fofana Osama Bin Laden Brown. First, I assumed she'd be able to provide multiple riffs on her name throughout the season, but there have been two episodes and she's already gone to the "Osama Bin Laden" thrice. Second, her runway look this episode was such a significant step down from the premiere. Third, as only seen in Untucked, Nina apparently had a tough time as team captain during the cheer challenge, and the other girls seem to be worried she's too hard on herself. 
All this said, she could come out and slay this week and I'd scream louder than anyone at the bar. But as I said last week, the unusual girls tend to suffer more for their mistakes than the conventionally pretty ones.
Safe bets
3. Sasha Velour
If I'm going to criticize Aja for being basically invisible so far, I have to knock Sasha down a bit, as she was basically absent from the last episode and Untucked. Still, I think her strong performance in the premiere and generally well-developed aesthetic will take her far.
2. Shea Coulee
The judges finally warmed up to Shea, putting her in the top three for her strong performance during the cheer challenge. For our money, she's the most consistent contestant so far — not saying much after just two episodes, of course, but it's easy to imagine her slaying all season long.
Done deal
1. Valentina
Valentina is the breakout star. Her win in episode two was totally deserved, for a combination of committed character work in the challenge and a drop dead gorgeous runway presentation. She took the lumps of being picked last during team selection and the other queens mocking her religious faith and still triumphed. Most of all, Valentina proved that her mere 10 months of experience are not a detriment — she has a better range of skills and understanding of her drag than most of the other queens.
If Valentina keeps this up, she's an easy choice to make the top three — if not to win it all.
The next episode of RuPaul's Drag Race airs Friday at 8 p.m. Eastern on VH1.
Mic has ongoing RuPaul's Drag Race coverage. Follow our RuPaul's Drag Race main hub.