The Chainsmokers New Album Release Time: What to know ahead of Friday's drop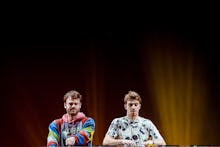 Following up on the success of their 2016 EP Collage, The Chainsmokers will be delivering their first full-length album, Memories ... Do Not Open, on Friday. The album will be available to stream and purchase as early as 12 a.m. Eastern. The pre-order link is already up on Apple iTunes. 
In February, The Chainsmokers debuted a single from Memories called "Something Just Like This," featuring one of their musical idols, Coldplay. The two acts performed the song at the BRIT Awards. This was the EDM duo's biggest team-up yet, as The Chainsmokers often feature newcomers over their beats, like Halsey on the hit "Closer" and Daya on their Grammy-winning song "Don't Let Me Down."
The producers have also released two other singles from the album that fans can listen to now — "Paris" and "The One." The Chainsmokers take a more laid-back approach on these tracks, adding some chill sonics as opposed to the upbeat vibes offered on "Something Just Like This." 
The Chainsmokers 2017 tour 
It won't be long before you can listen to the The Chainsmokers perform new records live. The duo will hit the road for Their Memories tour, which kicks off April 13 at Miami's American Airlines Arena. The tour wraps up June 10 at the Forest Hills Stadium in Queens, New York. More information on the tour can be found on The Chainsmokers website. 
Memories ... Do Not Open tracklist
Memories will also feature country duo Florida Georgia Line, pop singer Emily Warren, R&B songbird Jhené Aiko and French singer Louane.
The full track list for Memories ... Do Not Open is:
1. The One The 
Mic has ongoing coverage of the Chainsmokers. Please follow our main Chainsmokers hub here.