'Veep' Season 6 Review: HBO's acclaimed comedy doesn't skip a beat outside the White House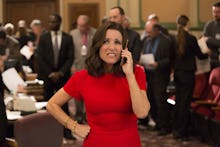 There's no greater sign that HBO's hilarious black comedy Veep has moved on from its original premise than the complete absence of the White House in season six. Yes, Selina Meyer did eventually make it to the presidency on the show, but her term was short-lived. This might be for the better, considering the question on everyone's mind — even going into season five — was how the political satire could top what's happening in real life. 
So Veep's sixth season, in a way, doesn't even try. Former President Selina Meyer is adjusting to post-presidential life, while the rest of her former administration is scattered across the country (though, no surprise here, Gary is still faithfully by her side with hand sanitizer and granola bars at the ready). It's not just a refrain from the real-life politics that feel too bizarre to be true, but it shows the potential for Veep's longevity. Giving all the characters new predicaments keeps the material fresh — and rest assured, the banter is as crass and hysterical as ever. 
Season six takes place a year after Meyer's historic loss, which leaves everyone else in flux. Former Chief of Staff Ben has a stint at Uber, Dan is working at CBS with a menacing co-anchor, Amy manages a political campaign for her fiancé Buddy Calhoun, who is running for governor of Nevada. Meanwhile, Jonah Ryan is a representative for New Hampshire, and the robotic Kent begrudgingly works under him. As for Meyer? She's trying to get a book deal for her presidential memoir, which isn't fetching an asking price anywhere near President Barack Obama, as everyone likes to remind Meyer that she was only in office for about a year. 
Whereas Veep was originally a sardonic look at politics and people in power (although the leading theory is that many Americans fear our political atmosphere might mirror House of Cards or The West Wing, Veep is the most authentic take) the sixth season posits what happens to them once the spotlight has faded. And for Meyer, it's rough. In the first episode, Meyer tells her family — her daughter Catherine, Catherine's girlfriend Marjorie and her shady ex-husband Andrew — she's considering running for president again, but wouldn't do so if anyone objects. Once everyone emphatically disapproves and Catherine starts crying, Meyer says she didn't think anyone would speak up, and didn't care for their opinions anyway. "I love you," she says. "But get out." 
That is, however, the closest Veep gets to tackling another presidential storyline in the three episodes. The episodes provided to press present new situations for post-presidency Meyer and her team: another sex scandal involving her ex-husband when she tries to get her official presidential portrait made and a rigged presidential election in Georgia (the country) as the two leading candidates offer substantial bribes toward her foundation. That foundation, by the way, will support anything that's in her best interests, so by the end of episode three it is the "Selina Meyer Foundation for Adult Literacy, AIDS and the Advancement of Global Democracy." I can't wait to see what else is added to the list. 
As was the case last season, Veep is a show where President Donald Trump isn't mentioned, even offhand, and again this plays to its advantage. Veep's never really been about tackling the politics of today, and having effective political satire that doesn't refer to Trump is both refreshing and rare in 2017. 
However, if there are any Trump parallels to be had, it would probably be the incompetence of Jonah Ryan, who's had one of the most winding character arcs on the series since starting as a despised White House liaison. He's still a congressman from New Hampshire — though he's bald now after a brief cancer scare, and keeps the look once he's recovered because he has, in his own words, received "four and a half pity handys" — and could carry that momentum on the show. While there's nothing yet to suggest this could happen, I could envision Veep eventually landing on Jonah as a presidential candidate, the notion of which is equal parts terrifying and enticing. 
Veep's sixth season is easily its most experimental, and the fact that it doesn't skip a beat means viewers shouldn't expect the Emmy darling to end anytime soon. While there's always a concern for comedies becoming stale over the course of a long run, Veep's trademark insults and hilarious performances have yet to wane. In other words, it's the opposite of Meyer's political career. 
Veep season six premieres April 16 at 10:30 p.m. Eastern on HBO.