These talented quadruplets were all accepted to Harvard and Yale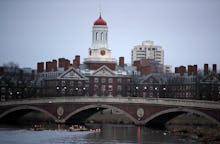 Every year, thousands of hopeful college seniors apply to Harvard and Yale, two of the nation's top schools. Most applicants get rejected — but, in one Ohio family, four brothers all found out they had been accepted to both schools this week.
The Wade quadruplets, Nigel, Zach, Aaron and Nick, all 18, are seniors at Lakota East High School in Liberty Township, Ohio — and this week they found out that they had all been accepted to both Harvard and Yale, the Washington Post reported on Wednesday.
"We're still in shock, honestly," Aaron told the Post. "I don't think it has sunk in yet."
All four brothers are athletes and run for their high school's track team. In addition to all getting into Harvard and Yale, the Wade brothers have been accepted to a number of other prestigious colleges and universities, the Post reported. Zach was accepted at Cornell, Nick and Aaron got into Stanford and Nigel has already been accepted at Johns Hopkins and Vanderbilt.
But the fact the all four of them were accepted at Harvard and Yale is an "unreal feeling," as Nigel told the Post. And Zach said that "to have one child from a family be accepted to a school like this is amazing, but for all four to be accepted — I just don't, I don't know how it happened."
The odds are against it, but, the Post reports, but it's not the first time Yale has admitted an entire set of quadruplets. In 2010, Kenny, Martina, Ray and Carol Crouch all accepted spots at Yale, the New York Times reported at the time.
And each year there are stories of exceptional teens who make it into all eight prestigious Ivy League schools — this year, Ifeoma White-Thorpe of New Jersey made headlines for going eight-for-eight in the admissions game.