Melania Trump wore Dolce & Gabbana again. The brand's fans aren't happy, but Gabbana is.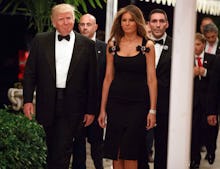 For her first official White House portrait, Melania Trump wore an Hermès bow around her neck and a black jacket designed by Dolce and Gabbana — one of her favorite brands to wear. 
Picking two brands that aren't American has already been pointed out as an odd choice for an official White House portrait showcasing a first lady whose husband is still running on a "Buy American and Hire American" platform, but in any case, Stefano Gabbana, one of the designers of D&G, was thrilled. 
Fans of the brand though? Not so much. 
After it was revealed that Trump was wearing a Dolce and Gabbana jacket, Gabbana took to his Instagram to celebrate the news on Monday. 
"#DGWoman BEAUTIFUL," Gabbana wrote. "#melaniatrump Thank you." 
In the comment section, a war began between Gabbana and his followers.
"So you have lost a follower, and worst, an admirer," one commenter wrote, to which Gabbana replied: "I don't care!! Really." When another commenter responded "Bye Stefano," Gabbana again responded, this time with a quick "Bye bye." 
"The LGBT community have been fighting so hard against these people for their rights," one commenter wrote. "How can you. Unfollow, boycott." Gabbana's response (in Italian) started with "Go to hell."
As with any of these posts though, Gabbana does have his fans. "Thank you for standing up for Melania!" one commenter wrote on this most recent Trump picture. "She's beautiful." Another: "You have a new follower here! Thanks for standing up for all of us being able to make choices and not following the herd!" 
Backlash against — and support of — a designer who's openly supportive of Trump isn't all that surprising. Even before she entered the White House, tons of designers weighed in on if they would ever dress Trump and why or why not, and it still remains a divisive issue. 
What is surprising here is Gabbana's unyielding appreciation of Trump, so much so that he's willing to go to bat for her and her decisions. 
In February, when Trump wore a D&G piece, he posted about her too, calling her a DG Woman. 
And in early January, when he posted about Trump again wearing a D&G dress for New Year's Eve, Gabbana practically went to war with commenters. 
After one commenter wrote "You are terrible," he responded: "U r more."
It doesn't just stop with Melania, either. Gabbana praised Ivanka Trump for wearing a D&G design back in February, too, which also created a war within the comments section. 
Just goes to show that much like America and the world, really, the fashion world remains divided over anything and everything Trump.