Female-written 'Daria' was groundbreaking and would still be an exception today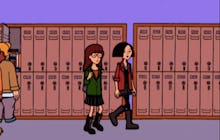 Daria Morgendorffer, the beloved bespectacled cynic, debuted in her namesake MTV series a little over 20 years ago on March 3, 1997. First seen on Beavis and Butt-Head, the sarcastic teenager wise beyond her years was partially inspired by a request for "a show for girls" from MTV execs.  
The animated series Beavis and Butt-Head was less than feminist, as its title characters frequently talked about "boobs." 
"Women didn't like the show because all they talked about were boobs — even though [the characters] were so naive that they never had sex at all," David Felton, a Beavis and Butt-Head writer and creator of the Daria character, told Vice. "I don't think they would've known what to do if they had the chance [to have sex]." 
Co-executive producer Susan Lewis added, "I don't think I would've ever watched Beavis and Butt-Head if I hadn't been picking out the videos for it." 
The numbers talked. Boys were watching Beavis and Butt-Head, but girls weren't tuning in, according to Vice. One woman even quit after being asked to animate something sexist. And MTV's then-president, Judy McGrath, requested the show add a female character. 
Four different pilots with female leads were introduced. And then came Daria, the whip-smart social outcast who saw through the facade of high-school popularity. Created by Glenn Eichler and Susie Lewis, the series ran for five seasons totaling 65 episodes, as well as two TV movies. Daria's titular character joined a roster of strong female characters seen on TV during the late '90s, including Angela Chase on My So-Called Life and Buffy on Buffy the Vampire Slayer. 
The longest-running show created by MTV's Animation department, Daria provided a relatable character and even a role model for teenage girls across the country — no doubt thanks in part to its writing staff. Nine of 19 writers and six of 19 directors were women, according to the Cut.
To commemorate the 20 years since Daria first premiered, Lewis and character designer Karen Disher envisioned what the show's main characters would look like in 2017. And while plenty has changed in the last two decades, one thing remains the same: the lack of parity in the entertainment industry. 
In 1997, one of Daria's two creators was a woman, and women made up nearly half of the writing team. That was, and still is, a rarity. According to the Writers Guild of America, 11% of TV shows still had no female writers on staff in 2015. And from 2015-2016, a study from San Diego State University found that only 26% of creators, directors, writers, producers, executive producers, editors and directors of photography on broadcast network, cable, and streaming programs were women. The study also found that in 2015, only 25% of executive producers and only 20% of series creators were women. 
Daria's popularity has endured over the years, with signs at the Women's March on Washington depicting her likeness and College Humor creating a movie trailer for a live-action adaptation about her college reunion. 
Given the nostalgia the series' 20th anniversary has inspired, Hollywood should take note and include more women behind the scenes — as well as in front of the camera. 
Mic has ongoing TV coverage. Please follow our main TV hub here.