How to make a custom Snapchat filter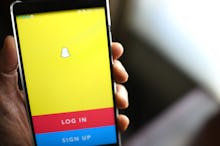 On Snapchat, you can be an artist. Among the app's coolest features are the numerous geofilters that add colorful images or words over photos and videos. The best part? You can make your own location-based overlays for special events, businesses or anything in between. These "on-demand" geofilters allow users to customize as much as they want.
How to create a Snapchat geofilter
To create a custom geofilter, go to Snapchat's website and either upload one you've made — which must be 1080 pixels wide by 1920 pixels high, saved as a .PNG file and have a transparent background — or select a premade template available on Snapchat. The submission process requires you to distinguish whether the filter is for a business or for personal use, like a birthday, wedding, graduation or other similar event. 
Then you'll pick an area — what Snapchat calls a "geofence" and which should encompass at least 20,000 square feet — and set a time for how long the filter will be active. After submitting, the filter is reviewed in one business day.
How much does it cost to create your own Snapchat filter?
As for the pricing of these geofilters, they differ from filter to filter based on a variety of factors. As of February 2016, when Snapchat first launched custom filters, the geofilters started at $5, according to the Verge. 
"We price geofilters in our discretion based on a number of factors, including how long and over how large an area you want the geofilter to run," Snapchat wrote on its website. "You can see the price adjust as you manipulate the size, location, and runtime for the geofilter in the purchase tool."
Are custom Snapchat filters private?
There's no way for these custom filters to be 100% private. You cannot pick a select number of people who can use it. Since the filter's availability is determined by location, others around can access the filter if they're in the vicinity. Hypothetically, if you have a Snapchat filter for your birthday at a bar and the entire bar is within the geofence, all patrons and staff will see the filter when they're using Snapchat.
What Snapchat doesn't allow in custom filters
Snapchat has a long list of no-nos for what cannot be in a proposed filter. This includes self-explanatory restrictions like no unauthorized logos or trademarks; no photographs of people; no personal information such as phone numbers, emails, URLs, Snapcodes and social media usernames; and no drug-related content. Snapchat also says no to hashtags, lotteries, social platform logos and more than two lines of nonstylized text. And, if it contains political content, a disclaimer must reveal who paid for the filter.