Ivanka admitted she's "complicit" — but not before twisting the definition of the word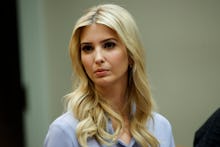 Ivanka Trump knows what you've been calling her, and she has something to say about it.
The eldest Trump daughter responded on Tuesday to charges of being "complicit" in her father's bigoted agenda and past behavior, not the least of which includes allegedly assaulting nearly a dozen women. 
In an interview on CBS This Morning, Trump owned up to being "complicit" — if by "complicit" we all mean something entirely different than the word's generally accepted definition.
"If being complicit is wanting to be a force for good and to make a positive impact, then I'm complicit," Trump said. "I don't know what it means to be complicit, but you know, I hope time will prove that I have done a good job and much more importantly that my father's administration is the success that I know it will be."
Trump added that if her critics were in the same "unique and unprecedented" position she was, they'd likely do the same. 
But Trump has herself created the specific set of circumstances that have led many outlets to call her complicit. After spending the duration of her father's presidential campaign stumping for him, Trump continues to attend meetings with foreign diplomats, host dinner parties for high-powered CEOs to further her father's agenda and now enjoys her own office in the West Wing.
Saturday Night Live deftly skewered Trump's involvement in her father's presidency in March, with a spoof ad for a fictional fragrance whose tagline is "Complicit: The fragrance for the woman who could stop all of this but won't."
As Scarlet Johansson's Trump sashays through a Trump Tower-like golden hall, the skit's narrator wonders, "A feminist. An advocate. A champion for women. But like, how?" 
Indeed, that is the question as Trump heads to Berlin in April for a women's empowerment summit as her father strips funding from abortion providers around the world. It was the question when Trump rolled out a child care plan that guaranteed six weeks of paid leave for mothers but didn't give a passing thought to fathers. And it was the question when, at the Republican National Convention all of those centuries ago, she said she would fight alongside her father for the equal treatment of women as he mocked and degraded women.
We want Trump to be a force for good for women, but considering her now-formal role in her father's administration, it's hard to call her anything but complicit.