'Persona 5' Convenience Store: Guide, tips, and tricks to scoring the part-time job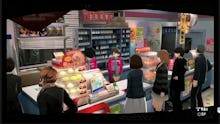 After a few weeks of enrollment at Shujin Academy in Persona 5, you can expect some after school freedom. After you beat the first main boss you'll finally be able to decide how you want to spend your time and who you want to spend time. 
One of the ways you can pass the time after school is by getting a part-time job. Depending on your stats, you can work at a flower shop, a gyudon shop, or a newcomer bar. The easiest job to obtain early game, however, is at the neighborhood convenience store. 
If you're looking to master the art of slurpees, here's everything you need to know about picking up a shift at the convenience store in Persona 5.
Persona 5: Working at the convenience store
The only requirement for working at the convenience store is getting through the first few weeks (further than April 20) in the game. Other than that, the convenience store job is always open to you. The pay is on the lower end of ¥2,800 — don't get too excited, that's about $25. 
Make sure to work at the convenience store for a least twice before moving onto a bigger job. A side mission called, "My Cat's Death Left A Lingering Grudge" won't be available unless you work at the convenience store for those two weeks.
Once you get better stats — specifically in kindness and handiness – feel free to head over to one of the higher paying jobs.
In addition, according to GGEZ, some co-op missions will require you to work at least twice at the other jobs, so make sure you stick around long enough. 
More Persona 5 news, updates, tips and tricks
For more on the latest entry in the Persona series, check out the rest of what Mic has to offer. Here's a guide to building relationships with the game's confidant system, and a guide to when and how you can name your main character. We've even got a guide on how to ace your first month of school!