Title VII: The part of the Civil Rights Act protecting LGBTQ workers from discrimination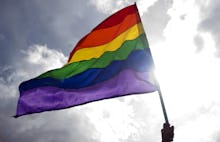 Teacher Kim Hively said she was reprimanded for "sucking face," denied promotions and fired from her job after she was seen kissing her girlfriend in the parking lot of the Indiana community college where she taught.
On Tuesday, a federal court in Chicago ruled for the first time that Hively and other LGBTQ workers are protected from workplace discrimination under the 1964 Civil Rights Act.
"It's really good to know that it's making some headway," Hively, who now works as a high school math teacher, told the Chicago Tribune. "I always thought there was a big disconnect when they legalized gay marriage but didn't extend any protections against workplace or housing discrimination. What they're doing is allowing people to lose jobs and homes just because they fell in love."
Hively, a former adjunct at Ivy Tech Community College of Indiana in South Bend, was reprimanded by a college administrator in 2009 after she was seen kissing her girlfriend goodbye in the school parking lot. In her lawsuit, Hively said she was "blocked from full-time employment without just cause" for the next five years, until ultimately being let go in 2014. 
Eight of 11 judges on the appellate court ruled that workplace discrimination based on sexual orientation violates Title VII of the Civil Rights Act of 1964. The remaining three judges dissented.
The ruling, which follows a decision by a three-judge panel in Atlanta that allowed employers to discriminate against employees based on sexual orientation, sends Hively's case back to an Indiana federal district court.
Gregory Nevins — counsel and employment fairness project director at Lambda Legal, which represented Hively — celebrated the ruling as a "new day" for LGBTQ Americans.
"Now that we see this in the right light, I think we'll see a domino effect (court by court)," Nevins told the Chicago Tribune. "All of those cases ruled in the last 15 or 30 years, that's a moot point. It's a new day."
What is Title VII of the Civil Rights Act?
Title VII makes it illegal for an employer to "fail or refuse to hire or to discharge any individual, or otherwise to discriminate against any individual with respect to his compensation, terms, conditions or privileges of employment, because of such individual's race, color, religion, sex or national origin."
John Maley, a lawyer representing Ivy Tech, argued Title VII's use of the word "sex" referred only to biological sex and not sexual orientation. The three dissenting judges agreed.
But Judge Richard Posner said the statute was not "frozen" and the courts could interpret it more broadly.
"Viewed through the lens of the gender nonconformity line of cases, Hively represents the ultimate case of failure to conform to the female stereotype," chief judge Diane P. Wood wrote for the majority, according to the Chicago Tribune. "Hively's claim is no different from the claims brought by women who were rejected for jobs in traditionally male workplaces, such as fire departments, construction and policing."