'Designated Survivor' Episode 15 Recap: Hannah exposes new terrorist plot twist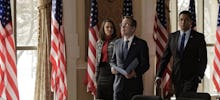 Designated Survivor has been one of the more pleasant surprises this television season. With so many political dramas on the air, it would seem difficult for a new series to set itself apart from the pack. But that is exactly what Designated Survivor has done. By focusing on a president thrust into an unprecedented situation, the series seems particularly relevant. And with conflict over a political agenda taking center stage this week, things are getting even more topical. 
(Editor's Note: Spoilers ahead for episode 15 of Designated Survivor.)
Episode 14 of Designated Survivor focused heavily on the investigation into the Capitol bombing, as well as an international conflict in Africa. In the episode 15 installment, titled "One Hundred Days," President Tom Kirkman decides to reset the clock on his first 100 days in office, and begins to develop his administration's platform. 
Of course, the investigation into the Capitol bombing does heat up, and after being deputized by the president in episode 14, Hannah begins to make some strides that could finally blow the case wide open. But getting so close to the secrets behind one of the most devastating terrorist attacks in history is dangerous indeed. 
Finally, for the first time since the series began, Aaron Shore is on the outside looking in, so we get see how long he lasts outside of politics. And if it sounds like there is a lot to unpack in this episode, that is because there is. So, let's get started.
Kirkman's agenda
Episode 15 begins with President Tom Kirkman addressing the press. He explains that due to the recent conflicts, he's not been able to implement his administration's agenda. So, he asks for permission to reset the clock on his first 100 days in office — the time a president is normally judged for initiating his platform. And Kirkman's speech goes off without a hitch, with his son even noting he has received the Twitterverse's stamp of approval (it doesn't get any better than that). 
Still, nothing stays simple in politics, and despite wanting to avoid hot-button issues like social security in his first 100 days, gun control is brought to the forefront after the first lady answers a simple question following a speech. After stating she believes there should be mandatory background checks, a pro-gun senator from Montana (with large political aspirations) queries whether it's the president or the first lady who is making policy. 
With the perception following the first lady's comments threatening to undermine the president's ability to govern in his first 100 days, Seth tells Kirkman he's going to have to ask his wife to walk back her comments. And though she's not comfortable with doing so, the first lady does set up a national interview where she does just that. But in Kirkman's town hall — an event used to build support among the people — gun control is brought up once again. And it appears Kirkman nails it. 
In response to a grieving mother, Kirkman says his administration will do everything in its power to make sure no parent has to deal with the pain she is currently experiencing, while also dispelling the myth that the government would be invading homes to remove guns. So, following the town hall, Kirkman organizes a bipartisan meeting with members of the House and senate, including the senator from Montana to address compromise. 
Following that meeting, however, the senator appears to back Kirkman into a corner by introducing a heavily flawed gun control bill, setting the stage for what will likely be some good old fashioned political conflict. 
Hannah's investigation
With her off-the-books investigation into the Capitol bombing now officially approved by the president, Hannah is really able to shift into high gear. And priority number one is figuring out the name of the woman who killed Jason's son, had an affair with Charles Langdon and was clearly intimately involved in the terror attack. 
And while facial recognition is unable to pick anything up, Hannah finally learns her identity by getting fingerprints off a picture of a wine glass — which is pretty awesome. Hannah initially goes to Jason for help, but after he snaps on a reckless driver, it becomes clear the grieving father is in no position to assist. So, Hannah has to head to the woman's registered address on her own — only to find it abandoned. 
Later, Hannah and Chuck are nearly killed in an explosion, obviously orchestrated by the woman, who had security cameras placed outside the abandoned address. Fortunately, the pair are able to figure out who owns the abandoned building, and also learn they have another registered address in the D.C. area. Hannah heads to the new address, only to find Jason has been following her since the explosion at Chuck's apartment. 
Once inside, the two find the woman, who after a scuffle, surrenders. But obviously she wasn't going to go out without more of a fight, and she pulls a gun, leading both Jason and Hannah to shoot her dead. And while it may seem like she would be taking a bunch of secrets to her grave, Hannah and Jason do find a memory stick which contains simulations of attacks on the Statue of Liberty, the Hoover Dam and the Golden Gate Bridge. So, while we still do not know who the terrorists are, we now know they are nowhere near finished.
Aaron's new job
In last week's episode, Aaron was finally cleared of any involvement in the attack on the Capitol. Unfortunately, the investigation into his culpability took its toll and he ends up resigning as Kirkman's chief of staff. In episode 15, Aaron contemplates leaving politics for good and heading back to Texas. But after a pep talk from his cousin, he decides to stick around the nation's capital.
While helping his younger cousin get an interview with a congresswoman, Shore runs into Speaker Hookstraten, who tells him that she is willing to help him land on his feet following his resignation. So, later in the episode, Shore takes the speaker up on her offer, asking if she could put in a good word at a lobbying firm. 
The speaker, though, feels like the private sector would be a waste of Shore's talents, and so, despite belonging to different political parties, offers Aaron a job as her chief strategist — which he accepts. How this new position will impact his standing with the president's staff will certainly be interesting going forward, especially since Hookstraten always seems to have her own agenda. 
Verdict
"One Hundred Days" was a jam packed episode of Designated Survivor, but I loved virtually every minute of it. Despite several ongoing storylines being addressed in episode 15, things never seemed rushed, and most of the plots progressed in meaningful ways. And now that Hannah has discovered potential future attacks, the stakes are showing no signs of getting any smaller. 
I particularly enjoyed the focus on Kirkman's political agenda, because we really don't get to see him do much governing. And for him to be a believable president, his administration will need to have some goals and initiatives. It was also rather brilliant to weave some family conflict — even if minor and short lived — into the president's political platforms. 
With all the storylines this episode juggled, "One Hundred Days" moved at a swift pace, without missing a single beat. As we approach the back end of Designated Survivor's first season, I find myself completely on the edge of my seat, and cannot wait to see what happens next. 
Mic has ongoing coverage of Designated Survivor. Please follow our main Designated Survivor hub here.