F-16 fighter jet crashes into Maryland neighborhood, reports say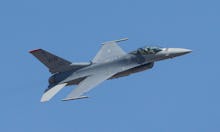 An F-16 fighter jet crashed in a neighborhood near Joint Base Andrews, an Air Force base in Maryland, according to multiple reports.
The jet's two pilots ejected from the plane before the crash, according to a report from a local Fox affiliate. Another report, from a local NBC affiliate, had one pilot ejecting. 
NBC reported that roads were closed around the apparent crash site near Clinton, Maryland. The channel broadcasted images showing a plume of smoke rising above a neighborhood.
ABC News reported that the plane was from the Washington Air National Guard's 113th Fighter Wing.
It's unclear what caused the crash.
This is a breaking news story and will be updated