Who is Troy Ave? 6 things to know about the rapper who thinks he's the new Tupac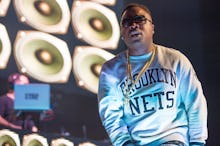 Brooklyn rapper Troy Ave was the center of discussion for hip-hop fans on Twitter Wednesday morning after he compared himself to late, iconic emcee Tupac. During an interview on Power 105.1's The Breakfast Club, he said the following: 
"I go in the mothafuckin' clubs, niggas go crazy. In the clubs, in the streets, where they playing all the fuckin' trap music — niggas go crazy. 'Oh shit that's Troy Ave.' Nigga it's the second coming of Tupac. It's New Pac." 
Some thought Troy Ave's declaration was out of his reach, as he hasn't had nearly as many hits or nearly the same impact as Tupac had when he was alive. Until this day, Tupac remains close to immortal, as a new movie about his life is coming this year and a new generation of hip-hop fans continue to rock T-shirts with his face on it. And who can forget Tupac's 2012 Coachella hologram.
Others took to Troy Ave's defense and said the rapper is more talented than many of his contemporaries and doesn't deserve the hate.
Troy Ave, who wore a bulletproof vest to the studio for the interview, made headlines after being shot on Christmas 2016. The rapper has since gained a strong following on the underground rap scene in New York, but the past year's legal troubles have hindered his rise in the music game of late. Here is what you should know about Troy Ave.
How Troy Ave received his big break  
Troy Ave was inspired to pursue a rap career in 2003 after hearing 50 Cent's first album, Get Rich or Die Tryin', and began selling his mixtapes out of the trunk of his car, according to his site bio. Troy remains an independent artist who gained respect in New York's underground rap scene through the release of his mixtapes. The rapper was featured alongside Chance the Rapper, Vic Mensa and Rich Homie Quan in XXL's 2014 annual Freshmen Class list. This solidified his name as one of the newcomers to watch in hip-hop.
The meaning of his moniker
Born Roland Collins, the rapper named himself after the street he grew up on in Crown Heights, Brooklyn, the Village Voice reported. Troy Ave's music centers on his experiences from his neighborhood and around New York City.
Troy Ave has two studio albums and many mixtapes
Troy Ave has released two studio albums as an independent artist: New York City: The Album in 2013 and Major Without a Deal in 2015. On New York City, he collaborates with veteran New York rappers Raekwon, N.O.R.E. and Prodigy. He also brings along G.O.O.D. Music's Pusha T as a feature. On his follow up, Major, he enlists more powerhouse names such as Puff Daddy, T.I., 50 Cent and Snoop Dogg. 
Troy Ave's hustle is also very consistent. He has released at least a dozen mixtapes over the course of his career. White Christmas 3, Roland Collins and White Christmas 4 are some of his most popular, according to mixtape site DatPiff's streaming numbers.  
Legal Trouble
In May 2016, Troy Ave was indicted on attempted murder and weapons possession charges after he was accused of firing a gun at a T.I. concert in New York City's Irving Plaza. The rapper was released on $500,000 bail in July. In the aftermath of the crossfire, he was shot in the leg. His bodyguard and friend Ronald McPhatter was killed in the incident. His lawyer said he was acting in self-defense. Troy Ave was ordered to stay away from performance venues after his release, the New York Daily News reported.
Christmas Shooting
On Christmas 2016, Troy was shot twice while on his way to visit his family for dinner, ABC News reported. The rapper was driving a red Maserati when a gunman reportedly walked up to his vehicle and fired at him while he sat in the driver's seat. Troy was struck in the arm and another bullet grazed his head. 
Mic has ongoing music coverage. Please follow our main music hub here.