'Pokémon Go' Nest Migration 18: When will the next spawn location changes occur?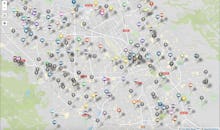 For the unaware, nest migrations are fortnightly affairs that take place in the Pokémon Go universe. A "nest" refers to any place in the world where a certain Pokémon consistently spawns, so Niantic tends to shake them up fairly regularly to ensure a fair distribution of Pokémon. Nest Migration 17 was lost in the scuffle of the Water Festival, so we're due for another one. And it could be happening as soon as Thursday.
Read on for more info.
Pokémon Go Nest Migration 18 expected on April 6
According to the Silph Road, Nest Migration 17 took place on Thursday, March 23, two weeks after Nest Migration 16, which took place on March 9. This has helped to reestablish the once-every-two-weeks pattern for migrations that Niantic briefly broke in February when Nest Migration 14 happened concurrently with the release of Johto Pokémon into the game despite the preceding migration being only a week old.
Since we didn't see a migration on March 30, it stands to reason that Niantic is now back to its normal pattern of releasing one every two weeks, which means you've still got a day to get out in the world and catch some Pokémon at your favorite nest before they're all scrambled.
Pokémon Go Nest Migration 18: Where to check for updates
As always, the Silph Road's Global Nest Atlas will have the most up-to-date information on what Pokémon are spawning where, and you can even contribute your own nest information to help out the community. As the new migration rolls out, the Nest Atlas will reflect more changes to the overall layout and allow you to get a better sense of what Pokémon are consistently spawning in your area.
The Silph Road will also be your best bet for determining when the update hits. The subreddit usually has a thread up and running within a day of the each migration, encouraging users to submit new nests to help out the rest of the community. It's also a great place to commiserate about your favorite Cyndaquil nest being turned into Venonat spawn point.
Expect the next nest Migration, the 18th since Pokémon Go came out, to hit tomorrow, April 6. Make the most of your current nest spawns in the meantime if you've been dragging your heels.
More Pokémon Go news, updates, tips and tricks
Check out Mic's Pokémon Go guides on how to get stardust, how to determine how long it will take you to reach level 40, the kind of Pokémon you get from 10km eggs, how to create new PokéStops, how to maximize your chances of catching Pokémon and how PokéStops distribute Pokémon eggs. Also check out how to catch Gen 2 baby Pokémon, our analysis of post-balance update Chansey and Rhydon and everything you need to know about finding the long-awaited Pokémon Ditto.
At Mic, we are always working to make the content we offer the best it can be. Please take a brief survey to let us know how you'd like to see us improve.