These 12 slow cooker recipes are perfect for spring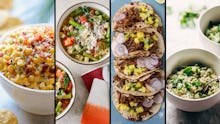 Don't pack up that Crockpot just yet.
Slow cooking can and should be done all year round. You'll be glad to have this kitchen appliance when you want to spend that extra hour of sunlight outdoors in the gorgeous spring breeze rather than cooking dinner. 
Simmer those farmers market veggies into a soup or pack that Crockpot with your favorite springtime ingredients to breathe new life into warmer weather cooking and put that extra spring in your slow cooking step. Here's what to make. 
Slow cooker chicken Caesar wraps
A fresh wrap and some greens add crispness to this picnic-ready dish you can simmer in a slow cooker overnight. Get the recipe here. 
Slow cooker lo mein
Lo mein is always in season, especially when you can throw in extra spring greens! Get the recipe here. 
Crockpot Thai broccoli rabe chicken curry
Fresh broccoli rabe adds greenery to this spicy slow cooked curry, perfect for a rainy spring night. Get the recipe here. 
Slow cooker corn and jalapeño dip 
Cook up a pot of corn dip and head outside with some chilled wine for the best cocktail hour you can create in a Crockpot. Get the recipe here. 
Crockpot sun-dried tomato penne alla vodka
Sprinkle some fresh green herbs (bonus if you grew them yourself) over this slow cooked pasta dinner. Get the recipe here. 
Crockpot quinoa chicken primavera 
The classic spring pasta dish is lightened up with quinoa that can cook all day while you live your best springtime life. Pack some up for tomorrow's lunch. Get the recipe here. 
Slow cooker eggplant lasagna
No pasta necessary to make this stacked eggplant, cheese and sauce dish. Get the recipe here. 
Slow cooker whole chicken
Skip the oven time and roast an entire chicken in your crockpot. Serve with a side of greens and radishes for optimal springiness. Get the recipe here. 
Slow cooker barbacoa beef tacos with pickled onions and pineapple pico
Cook this taco meat for up to 10 hours to bring out its tenderness. Freshly pickled toppings and sweet pineapple make this slow cooked meat exciting. Get the recipe here. 
Easy springtime Crockpot minestrone
This soup is seasonal, easy and satisfying. Cook up a pot, and then another, and another... Get the recipe here. 
Slow cooker lemon feta chicken drumsticks
Drum up some excitement for these zingy chicken drumsticks that are perfect for any spring chicken cravings. Get the recipe here. 
Slow cooker coconut brown rice pudding
Lighten up your spring desserts with this slow cooker rice pudding that uses brown rice for extra fiber and can be topped with your pick of fresh fruits. Get the recipe here.