The trailer for 'Master of None' season 2 shows John Legend and lush Italian countryside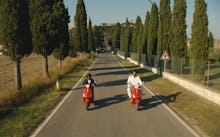 At the end of Master of None's first season, Dev, played by series creator Aziz Ansari, was headed to Italy. Based on the first trailer for the Netflix comedy's second season, it turned out to be a smart decision — aesthetically, at least. 
The trailer doesn't offer any dialogue, instead tempting viewers with lush, extended shots of the Italian countryside, John Legend playing piano and a few familiar faces from New York City, including Dev's mom and dad, played by Ansari's real-life parents. However, considering the more sardonic take Master of None's first season had on life and relationships, season two probably won't be without challenges. 
Plus, according to the second season's plot synopsis, Dev will also be making a return to New York after his time overseas: 
After traveling abroad, Dev returns to New York to take on challenges in his personal and family life, a new career opportunity and a complex, developing relationship with someone very meaningful to him.
In a tweet sent with the trailer, Ansari also confirmed the release date for the new season: May 12. Fans of the series were ecstatic — for the May release, for all things Italian and for the gorgeous cinematography. 
Watch the first trailer for Master of None season two below:
Mic has ongoing Master of None coverage. Check out our main Master of None hub here.