Pepsi pulls offensive ad, apologizes for "putting Kendall Jenner in this position"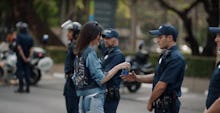 The ad went flat faster than an open can of Pepsi.
Approximately 24 hours after releasing an ill-advised and widely dragged advertisement in which model Kendall Jenner solves social justice with a cold can of Pepsi, the brand announced Wednesday that it would pull the spot. Daily Beast editor Marlow Stern tweeted a snippet from Pepsi's statement:
Pepsi was trying to project a global message of unity, peace and understanding. Clearly, we missed the mark, and we apologize. We did not intend to make light of any serious issue. We are pulling the content and halting any further rollout. We also apologize for putting Kendall Jenner in this position.
The commercial, entitled "Jump In," immediately earned itself round rebuke from all corners of the internet for turning protest into a capitalist venture. 
That the country is currently experiencing frequent waves of demonstrations is a direct response to a White House that has threatened the rights of many minority groups. As a few writers have already pointed out, Pepsi painted protesting as a chill, Coachella-like endeavor presided over by police who definitely won't get violent if a woman peacefully approaches them. 
Many also called out the fact that the ad seemed to invoke the image of Leshia Evans, a black woman featured in an iconic photo from a protest in Baton Rogue over the death of Alton Sterling — signaling just another instance where black women are erased from the social movements they often lead. 
Bernice King, daughter of legendary civil rights leader Martin Luther King Jr., also weighed in on the ad, tweeting Wednesday, "If only Daddy would have known about the power of #Pepsi."
"Missed its mark" feels like an understatement.