Stop making a big deal about the new gay character in 'Dr. Who,' showrunner says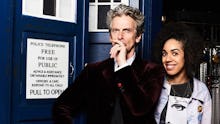 The BBC's long-running and widely-beloved sci-fi drama Doctor Who revealed recently that a major character in the show's upcoming 10th season is gay, an announcement that earned the show gushing headlines praising it for making series history. 
But Steven Moffat, Doctor Who's showrunner, thinks the show doesn't deserve all the praise it's been getting for announcing a new gay character — and he makes a pretty great point.
"We didn't know that there was going to be all that fuss," Moffat said during a panel following a season premiere event, BuzzFeed reported on Tuesday.
"And in a way, there kind of shouldn't be. That's kind of nonsense," he continued. "Just to be clear, I've been saying this a lot today, we're not expecting any round of applause or pat on the back for that. That is the minimum amount of representation that she has on television, and the correct response will be 'What took you so long?'"
Peal Mackie, who plays the new "companion" in Doctor Who's upcoming season, revealed that the character will identify as gay in an interview with the BBC in March.
"It shouldn't be a big deal in the 21st century. It's about time isn't it?" Mackie, who plays Bill Potts, said. "That representation is important, especially on a mainstream show."
Mackie's character won't be the first LGBTQ representation in the show's history. Other characters in the series have been gay or bisexual, but Mackie will play the first gay "companion," or longterm sidekick to the titular Doctor, according to the BBC.
The move is a positive sign for LGBTQ representation in media, which is still sorely lacking. An annual GLAAD report released in 2016 found that only 4.8% of series regular characters on scripted primetime TV identified as LGBTQ.
While representation is crucial, it shouldn't have to be headline news in 2017 when a TV show adds a gay main character.
"It is important that we don't make a big fuss about this," Moffat said during the premiere event. "We don't want young kids, who ... happen to fancy their own gender, we don't want them feel as if they are some of kind of special case, as that's frightening."