Who is Joaquin Castro? Texas Rep. says Russia probe may land Trump associates in jail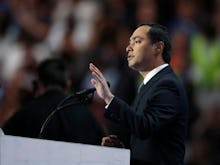 Democratic Rep. Joaquin Castro of Texas made headlines when he told CNN's Wolf Blitzer in a televised interview that he was anticipating the incarceration of some Trump associates.
"I wouldn't be surprised after all of this is said and done that some people end up in jail," Castro said, referencing the investigations into Trump's ties to Russia.
Castro serves on the House intelligence committee and told Blitzer that he was unable to elaborate on his comment, but restated the premise: "My impression is that people will probably be charged, and I think that people will probably go to jail."
Castro steps out of his brother's shadow
Castro's twin brother Julian Castro, the former mayor of San Antonio and secretary of Housing and Urban Development under Barack Obama's administration, has been floated as a possible Democratic presidential candidate in 2020, but he's mostly flown under the radar in the early days of the Trump administration.
Joaquin Castro has had a much quieter, albeit distinguished, political career. The Texas congressman was selected as a chief deputy whip for the Democratic Party in the 114th Congress. Castro currently sits on the House Permanent Select Committee on Intelligence and the House Foreign Affairs Committee.
During the 2016 presidential campaign, Castro acted as a surrogate for Hillary Clinton.
A quiet progressive with a history of nonprofit work
Castro's public image has tended toward a focus on community-building and nonprofit work. His biography materials go out of their way to elaborate on his nonpartisan activities.
The following is a truncated excerpt from his Congressional page:
He created the Trailblazers College Tour, personally raising money to send underprivileged students on college visits, giving them exposure to some of the nation's best institutions of higher education. He also founded SA READS, San Antonio's largest literacy campaign and book drive. ... Joaquin created the annual Families Helping Families dinner and awards. ... Joaquin is active on several boards of education-related, non-profit organizations, including the National College Advising Corps, and the National Association of Latino Elected and Appointed Officials' Taskforce on Education.
Despite his evasion of politicizing his position, Castro is a clear liberal. The American Civil Liberties Union gave him a 94 percent rating in 2015 to 2016, and the Human Rights Campaign awarded him a perfect score, according to VoteSmart.