Why is Phil Simms being replaced on CBS? Tony Romo takes over as new NFL lead analyst.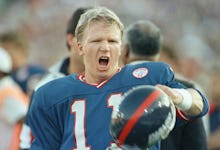 For nearly 20 years, Phil Simms has been one of the more recognizable voices in sports thanks to his role as lead game analyst for CBS' NFL coverage. During his tenure, Simms joined Jim Nantz in the CBS booth to call some of the season's most exciting games. But when the 2017 season kicks off in September, Simms will be sidelined. 
On Tuesday, CBS Sports' chairman Sean McManus announced that four-time Pro Bowl quarterback Tony Romo, who played 14 seasons with the Dallas Cowboys, would be taking over as the lead NFL game analyst for the afternoon coverage of The NFL on CBS, as well as Thursday Night Football. 
"Tony has been one of the NFL's biggest stars for the past decade, and we are thrilled to welcome him to CBS Sports," McManus said in a statement. 
He will bring the same passion, enthusiasm and knowledge that he displayed on the field to the broadcast booth. He brings a fresh and insightful perspective to our viewers having just stepped off the field. We know Tony will quickly develop into a terrific analyst, and alongside Jim Nantz, will become a must-listen for fans each week.
As for Simms, his future with CBS is unclear. But it does appear that CBS is at least willing to work with him on new opportunities outside of the lead NFL announce team. While those CBS opportunities remain a mystery, the network is making clear that they appreciate all Simms has done over the past 20 years.
"As we welcome Tony, we want to acknowledge Phil Simms who served as our lead NFL analyst for nearly 20 years," McManus said in his statement. 
Phil has been a very important part of our coverage since the NFL returned to CBS in 1998. His strong opinions, coupled with his tremendous knowledge and passion for the National Football League, has created a unique broadcasting style making him one of the best analysts to ever call the game. We are discussing with Phil his future role with CBS Sports. We cannot thank him enough for the way he has represented himself and CBS Sports during his tenure as CBS's lead NFL analyst.
Simms, himself a two-time Pro Bowl quarterback, won two Super Bowls with the New York Giants, and won the game's MVP award in the team's Super Bowl XXI win over the Denver Broncos. 
Mic has ongoing coverage of the NFL. Please follow our main NFL hub here.