'Mario Kart 8' Switch DLC: Deluxe version may have more content for purchase in the future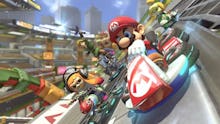 Mario Kart 8 Deluxe will be available on Nintendo Switch in less than a month. So if you missed out on playing Mario Kart 8 on the Wii U, the definitive version of the game is coming to Nintendo's handheld/console hybrid. Mario Kart 8 Deluxe ships with new battle modes and features, but could the game offer even more add-ons to buy, like the Wii U version?
Mario Kart 8 Deluxe Switch DLC: What does Nintendo have planned?
Mario Kart 8 Deluxe will no doubt be better than its Wii U counterpart. Similar to the GameCube fan favorite Double Dash, players can hold two items at once. Additionally, the game ships with an ultra-fast 200cc mode for expert racers and battle mode, where you're tasked with destroying your opponents' balloons before they do the same to you. There are a bunch of new characters to the roster of kart-racers in Mario Kart 8 Deluxe, including Dry Bones, Bowser Jr., King Boo and the Inkling kids from Splatoon.
Nintendo is asking its die-hard fans to spend another $60 on mostly the same game, with a few changes. One could speculate that Mario Kart 8 Deluxe will be the definitive version, but we can't rule out additional DLC just yet.
As Mario Kart 8 on the Wii U showed us, the opportunity is certainly there. New characters like Link and promotions like Mercedes cars entering Mario Kart mean the series is ripe for building on top off. Can Nintendo resist the urge to offer a $5 download pack to get Link's Breath of the Wild look or to add Ford cars to the mix? We'll have to wait and see.
It's early in the Nintendo Switch lifespan, so it's entirely possible that as new games are released, they could become new Mario Kart racers (ARMS, anyone?). Currently, there is no Mario Kart game scheduled for release exclusively on the Switch, so it seems almost inevitable that new content will be on the horizon. 
More Nintendo Switch news and coverage
Looking for more Nintendo Switch news? Check out how blind gamers are using the Nintendo Switch. Nintendo's left Joy-Con issue turns out to be a hardware problem — find out how to solve it. Find out how to buy a console amidst the recent restock. Learn why the Switch cartridges taste so bad. Check out our comparison photos sizing up the Switch to the Wii U GamePad (part one and part two), or find out how to make use of ethernet without the dock and the best way to get alerts when new stock arrives.