GOP runs Islamophobic attack ad against Georgia Democratic House candidate Jon Ossoff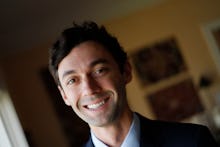 Is Jon Ossoff — a Democrat running for Congress in Georgia's 6th District — a Star Wars nerd who drank in college, or a terrorist sympathizer? 
According to one Republican super PAC, he's both.
A new attack ad against Ossoff, paid for by a GOP super PAC aligned with House Speaker Paul Ryan, seeks to tie Ossoff to terrorists — claiming he got paid by Al Jazeera, a media outlet the ad describes as a "mouthpiece for terrorists." The ad goes on to show images of Islamic militants and vanquished Al Qaeda leader Osama bin Laden.
Ossoff, for his part, told the Atlanta Journal-Constitution that he runs a film company that did work for Al Jazeera, calling any attempt to use the work against him as a "partisan attack."
The same super PAC launched an ad in March that dredged up footage of Ossoff when he was a student at Georgetown University, showing him dressing up in Star Wars regalia and singing a cappella with his friends.
The latest ad comes about two weeks before an April 18 special election in this suburban Atlanta district, left vacant thanks to Tom Price's ascension to secretary of the Department of Health and Human Services.
The seat has traditionally been heavily Republican. But President Donald Trump barely beat Hillary Clinton in the district in November — giving Democrats hope they could pick up a House seat.
Democratic groups have mobilized to try and push Ossoff to victory, painting the race as a test of the anti-Trump resistance.
Georgia's special election rules are unlike traditional congressional elections.
All candidates, regardless of party, will run on the same ballot on April 18.
If one candidate can surpass 50% of the vote, that candidate wins outright. If not, the top-two finishers head to a run-off election on June 20. 
Politico reported last week that Republicans are nervous Ossoff may capture the 50% needed to win outright — a possible reason why Republicans went nuclear with an add painting Ossoff as some kind of terrorist sympathizer. 
"This Bin Laden-invoking anti-Ossoff ad is what it looks like when you break the glass and hit a big red button," the New York Times' Nate Cohn tweeted.