Chance the Rapper's music has inspired fans to campaign for him as mayor of Chicago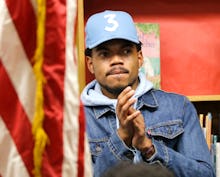 Chance the Rapper's lyrics are so uplifting and inspiring that his fans want him to run for mayor of his hometown of Chicago. 
That's right, his fans have already begun plotting out his political career by launching a website to convince him to run for mayor of the city. The campaign, called Chano4Mayor2k19, wants the rapper to go head-to-head against the city's current mayor, Rahm Emanuel. 
The fans plead on the website for the Coloring Book rapper to consider a run for office:
Hey Chicago,
The campaign message is built on his lyrics from his songs. Throughout the website, there are lyrics from tracks like "Summer Friends," "Acid Rain," "Blessing (Reprise)" and more. His love for Chicago has consistently been made evident through lyrics like "I'm in love with my city / bitch I sleep in my hat," as he spits on "Finish Line/Drown."
When he's not busy rapping about his hometown, he's actively making a change in it. 
The campaign notes all the hard work Chance has done over the years and how much he's given back. He's donated coats to the city's homeless, launched free "Open Mike" nights for local youth and donated $1 million to the city's public schools. 
The lyrics from his song "Angels" are maybe the most revealing at how much Chance cares about the city: "I got my city doing front flips/ When every father, mayor, rapper jump ship/ I guess that's why they call it where I stay/ Clean up the streets/ So my daughter can have somewhere to play," he raps. 
The campaign has one simple request from the rapper, and that's to get involved, even if he decides not the run. "You don't have to decide right now. 2019 is kind of a long way away. But the people are screaming for you, and Chicago is hungry for change. Think about it..." the website's closing message reads. 
Chance the Rapper the Mayor. We can see it now. 
Mic has ongoing music coverage. Please follow our main music hub here.