Trump Wall: Top builders decline to submit bid to work on Trump's shrinking wall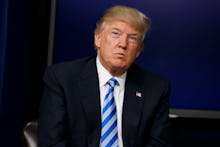 President Donald Trump has long promised a "big, beautiful, powerful wall" on the United States-Mexico border — but will he find anyone willing to build it?
Bidding for the border wall closed on Tuesday with many of the largest engineering and construction firms declining to submit proposals, CNN reported, possibly forcing the administration to rely on smaller firms, which may not have the necessary resources to complete the massive project as efficiently.
"There are many hurdles associated with the wall, ranging from political ones to financing to the very real human aspect," an unnamed senior official at a construction firm told CNN. "There are also concerns about how working on the wall would affect a construction company's ability to work in other countries, given that the Trump plan has received a great deal of international criticism."
By 4 p.m. Tuesday, when the bidding deadline closed, only three of the top 20 contractors ranked by the trade publication Engineering News-Record had submitted proposals for Trump's border wall. The top three — Bechtel, Fluor Corp. and Turner Corp. — are not listed as interested vendors, according to CNN.
In addition to political concerns, companies interested in working on the wall face potential legal challenges, as well.
State lawmakers in New York and California have proposed measures barring companies involved in the construction of Trump's wall from doing business in those states. Additionally, the Trump administration will have to seize privately owned land to build the wall, which is expected to prompt years of costly lawsuits.
Still, at least 200 companies submitted proposals by Tuesday's deadline. From that pool, the administration is expected to choose between 4 and 10 companies to build prototypes; the finalists will be announced in June and will be expected to complete a prototype by July.
Trump wall likely won't stretch from "sea to shining sea"
On Wednesday, the day after bidding closed, Department of Homeland Security Secretary John Kelly told the Senate that Trump's wall probably wouldn't stretch from "sea to shining sea."
"It's unlikely that we will build wall or a physical barrier from sea to shining sea," Kelly testified to the Senate Homeland Security Committee. "We're not going to build a wall where it doesn't make sense. But we'll do something across the Southwest border."
Trump had previously implied that the wall would stretch across the entire 2,000-mile border between the U.S. and Mexico — and on numerous occasions said directly that Mexico would pay for it. 
Since then, though, his proposed wall has shrunk to 1,000 feet, some of which would probably just be a fence, for which Mexico would reimburse us at some later date. 
Sen. Claire McCaskill on Wednesday told Kelly it was "embarrassing" Trump won't admit he won't be able to follow through on his campaign promises related to the wall, CNN reported. 
"Everyone in Congress knows it's not going to happen," McCaskill said. "It appears the only person who won't say it out loud is the president."