Car insurance premiums higher in minority neighborhoods than in white areas with same risk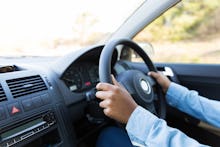 A new report found drivers living in minority neighborhoods pay more in car insurance premiums than those living in white areas, ProPublica reported.
ProPublica, in partnership with Consumer Reports, analyzed payouts and insurance premiums from Texas, Missouri, Illinois and California. It also examined about 100,000 premiums that were charged for liability insurance at each state for a period of three to five years.
Despite racial discrimination being against the law in many states, the report found people living in minority zip codes pay up to 30% higher in premiums than white zip codes even though they have the same risk. Robert Faturechi, ProPublica's money in politics reporter, pointed this out: 
The report found 33 out of 34 insurers in Illinois charged at least 10% more to customers in minority-populated areas than those living in a predominantly white neighborhood. For Missouri and Texas, half of car insurance providers charged higher premiums for safe drivers in "high-risk minority communities" than in low-risk white communities. In California, eight insurance providers have a 10% increase in prices for minority zip codes than in white zip codes.
According to ProPublica, 26-year-old Otis Nash pays a monthly payment of $190.69 for his Geico car insurance on his 2012 Honda Civic LX in Chicago. Just a few miles away, Ryan Hedges, 34, pays about $54.67 month for his Geico insurance for his 2015 Audi Q5 Quattro SUV. The main difference? Hedges lives in the swanky Lake View neighborhood adjacent to Wrigley Field, whereas Nash lives in East Garfield Park.
Hedges' and Nash's zip code was one of the main factors behind the more than the approximate $140 difference in car payments. According to data from ProPublica, drivers from minority neighborhoods are still quoted higher prices.
According to ProPublica, Illinois insurers paid 20% less in property damage and bodily injury between 2012 and 2014 in Nash's zip code than in Hedges' majority-white neighborhood. Despite this, Nash still has to pay 51% more for his car insurance than Hedges.
That takes a huge toll on Nash, who works two jobs as a pest control technician and security guards, for about six days a week in order to make his monthly car insurance payment. On top of that, he supports his 7-year-old daughter and wife. 
"I'm on the edge of homelessness," Nash told ProPublica, but "without a car, I can't get to work, and then I can't pay my rent."
Sadly, he's not alone.