Told she'd be more attractive if her skin was lighter, this model issued a fire clapback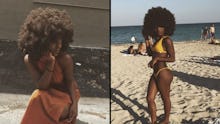 Mimi Mbah is a 19-year-old college student from Maryland with dreams of being a model — and more than 11,000 Instagram followers to boot. Therefore, she has no time for anyone who dares to try shaming her for the color of her skin. 
That much was evident when the Twitter account African Beauties, which aims to show the beauty of African people, tweeted some of Mbah's own pictures from her Instagram account, showing her lounging on a beach and generally looking super cute. 
While plenty of people rushed to praise Mbah's style, one very irrelevant man decided to throw out his opinion regarding Mbah's skin. 
"[If] she was lighter, she'd be fire," the man wrote, as if anyone asked. 
Don't worry about Mbah, though, because she issued a dream of a clapback to the troll. 
"No thanks," she wrote. "I wouldn't trade my skin color for the world! Still [fire] tho." 
So far, Mbah's response has gone viral, with more than 21,000 retweets and more than 57,000 faves. That irrelevant man's tweet? It's been retweeted just six times. 
In an interview with BuzzFeed, Mbah said she wasn't really surprised by the exchange. 
"I wasn't surprised when I first received that tweet but I was definitely disappointed," she told BuzzFeed. "It's happened to me before and I think almost every dark-skin girl can say the same, too."
Indeed, Mbah is still braving tweets trying to cut her down, as evidenced by an Instagram series she posted to her own account. 
"All this for some attention," she wrote. "I'm done entertaining them tho! No more."
At the same time, Mbah is also seeing a wave of support from people clearly on her side, praising her for sticking up for herself.
Regardless of how different people respond to the story, Mbah is still proud about her tweet going viral, because it's helping bring to light the colorism that still exists within the black community and around the world. 
"I'm glad my tweet went viral because now I feel like I have a platform which I want to use to talk about things like that and give advice to other dark-skin women who are going through similar situations and probably blaming themselves for it," Mbah told BuzzFeed. "I actually wanted people to see that colorism is still real."
Mic has reached out to Mbah for further comment and will update this post when we hear back.