This is the real story of "#GirlBoss" author Sophia Amoruso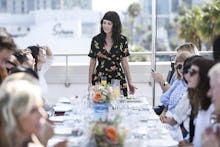 Sophia Amoruso is many things: an independent businesswoman, author of a bestselling book and subject of a new Netflix series, which tells her rags-to-riches story and details a rise to fame that descended downhill. So, who is the woman behind the headlines?
As a child, she showed an entrepreneurial instinct, serving as "president" of her Sacramento street's lemonade-and-abalone craft stand in the mid-1990s. After working an array of odd jobs that included Subway, a dry cleaners and a gardener, Amoruso began selling vintage clothing on eBay, doing roughly $115,000 in sales and netting $20,000 after a year and a half. 
Nasty Gal, an e-commerce site for vintage fashion, was launched immediately after Amoruso was kicked off eBay in June 2008 after arguing with rival sellers and facing accusations of shill bidding, which she denied. Through word of mouth and social media, the from-scratch site's popularity and income grew rapidly, as did Amoruso's reputation as a trend-setter and tastemaker — which led to her being heralded as "fashion's new phenom" by Forbes.
Amoruso stepped down as NastyGal's CEO in 2015, giving the job to Lululemon veteran Sheree Waterson after having hired her in 2014.
"I didn't love having eight people reporting to me and asking me over and over if we're hitting targets," Amoruso told Forbes. I'm a creative. I'm a brand-builder. I'm a rainmaker. I'm a pretty good marketer, but that's not something I want to do every day." 
She remained executive chairwoman until the company filed for Chapter 11 bankruptcy protection in November. NastyGal was then purchased by Boohoo.com for $20 million in February. 
During NastyGal's ascent, Amoruso penned the book #Girlboss, a chronicle of her success. The #GirlBoss brand also includes a podcast, a coffee-table book and the new streaming series that chronicles Amoruso's story. The show drops on Netflix on April 21. 
Amoruso is far from being done with setting trends or running companies. Her new media company, Girlboss, celebrated its launch with a day-long rally on March 4 in Los Angeles. 
"Success is not a straight line," Amoruso told rally attendees, according to Inc. "If you've been paying attention in the last year, my line has squirreled in every direction and it's in a knot now. I'm still figuring it out, and I hope I never figure it out."
Mic has ongoing fashion coverage. Please follow our main fashion hub here.