Where Payless ShoeSource store locations are closing in every US city and state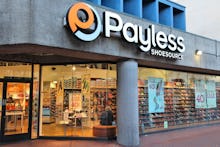 Payless ShoeSource has filed for Chapter 11 bankruptcy protection and announced it will close 400 stores — yet another brick-and-mortar brand under siege as consumers move online. "This is a difficult, but necessary, decision driven by the continued challenges of the retail environment, which will only intensify," Payless CEO Paul Jones said in a press release.
Joining the ranks of Sears, Kmart and other big retailers who are also shuttering large numbers of storefronts, Payless saw its revenue decline by 4% between October 2015 and October 2016 and had its Moody's rating downgraded in February due to "weaker-than-anticipated operating performance," according to Moody's analyst Dan Altieri.
Payless disclosed in its filing that it had more than 100,000 creditors and its liabilities ranged from $1 billion to $10 billion, the Topeka Capital-Journal reported, while its assets were between $500 million and $1 billion.
Payless stores are closing in 44 states
While stores are closing in all but six states — plus Puerto Rico and Washington, D.C. — the hardest-hit states include Texas (with 66 closings), California (49) and New York (22).
Among big cities, Chicago, Houston, Los Angeles, Miami, Milwaukee, New York City, Phoenix and Washington, D.C. Payless locations are all taking a hit.
If you're still looking for some bargain impulse buys, or store closing sales, you're in luck: We've got the full list of stores Payless plans to close across the U.S., so you can see if your local store is going to stick around — or if it's time to rush over to get shoes on deep discount.
Payless currently employs 22,000 people at 4,400 stores in 30 countries, Business Insider reported. More than 2,000 employees could be affected by these store closings.
Sign up for The Payoff — your weekly crash course on how to live your best financial life. Additionally, for all your burning money questions, check out Mic's credit, savings, career, investing and health care hubs for more information — that pays off.