'Senran Kagura' Nintendo Switch Direct reveal was a confusing and controversial mess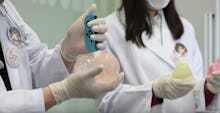 Nintendo had a bunch of fun news to share during its latest Direct presentation, including new amiibos, launch details for Arms and Splatoon 2, and even confirmation of  Disgaea's arrival on the Switch. But if you were watching the U.S. version you also missed out on what could be the Nintendo Switch's most controversial game so far: Senran Kagura.
The Senran Kagura series from Japanese developer Marvelous Games isn't well known outside of Japan, but trailer for an upcoming Nintendo Switch game may change that — possibly for the worst — while demonstrating just how colossal the gap is between Nintendo's regional audiences.
Check out the video for yourself and then read on for a little more context.
Senran Kagura Nintendo Switch: Teen girl ninjas seem like a good idea
Senran Kagura seems innocent enough when you read about it. A band of teenage girl ninjas running around, killing bad guys and saving the day, just in time to hit the beach after class.
It's basically Persona but with ninjas, right? Short answer: No, it's definitely not. 
Senran Kagura games are referred to as "ecchi" works, Japanese slang for "playfully sexual action." Between the 3D stereoscopic technology on the Nintendo 3DS that allows players to look up teenage girls' skirts and the alarming loss of clothing during a battle, Senran Kagura games are certainly not built for mainstream western audiences.
Nintendo knew that U.S. fans would have little tolerance for this level of objectification — specifically when it comes to underage teenage girls. As a result, the game was noticeably absent when comparing the different regional versions of the Nintendo Direct presentation.
Senran Kagura Nintendo Switch: This is why we didn't see the announcement
There's no official translation of the Senran Kagura portion of Wednesday's Nintendo Direct, but reddit user Bioe gave it a shot. Here's their translation, which includes a bit of editorializing:
Hello everyone, I'm Takaki from Marvelous.
Even if an announcement for a new Senran Kagura game had made it to our regional Nintendo Direct, it wouldn't have been featured in the same capacity as the Japanese livestream. The decision to show developers fine-tuning the Joy-Con's HD Rumble using some jiggly flan and transparent water balloons to represent these busty underage girls was a bit much to say the least.
Should XSEED, Marvelous Games' North American publisher, choose to localize Senran Kagura, we may see this functionality stripped away (or reworked) in order to avoid unavoidable blow-back from North American audiences. It's one thing to play a game like Dead or Alive Xtreme 3 with its "breast physics" or even Majesco's Bloodrayne, it's quite another to play a game that simulates how a woman's breast actually feels with a Joy-Con.
There's no date set for Senran Kagura's Japanese release — though the video hints to a 2017 distribution. As we know, there are no plans to bring the game to Western audiences. But since the Switch isn't region locked, there's nothing stopping American gamers from importing the new title once it's released.
More gaming culture and criticism
Check out the latest from Mic, including our deep dive into how female Overwatch players are dealing with online harassment, an article about a fan movement advocating for more same-sex romance options in Mass Effect, a personal essay to JonTron from an another Iranian-American and an article looking at cultural diversity in Overwatch.