'Dishonored 2' Free Trial: Play the game for free on all platforms this weekend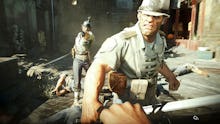 It's understandable if you missed Dishonored 2, as 2016 was absurdly full of amazing games to play every month. If you did miss out, there's good news: Part of it will be free this weekend.
Dishonored 2 free trial this weekend on PS4, Xbox One and PC
According to Polygon, Dishonored 2's free trial will be available all weekend on PlayStation 4, Xbox One and PC (via Steam). You'll be able to play the opening chapters of the game, with the trial ending before the Clockwork Mansion mission. If you feel like buying the game afterward, your progress from the trial will carry over.
In Mic's review of Dishonored 2, we called it a "fitting improvement" over the original, even going as far as to say that it's enjoyable if you didn't play the first one. 
Dishonored 2 offers the same compelling world, challenging stealth puzzles, exciting swordplay and dark magic, which alone makes Dishonored 2 a must-play for fans of the series.
That certainly sounds like it's worth the price of free.
More gaming news and updates
Check out the latest from Mic, including our deep dive into how female Overwatch players are dealing with online harassment, an article about a fan movement advocating for more same-sex romance options in Mass Effect, a cool making-of video for Legend of Zelda: Breath of the Wild and an article about what a Bechdel test for gaming might look like.