'Archer' season 8 takes viewers to a 1940s Los Angeles 'Dreamland' on FXX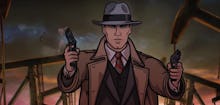 We're only hours away from the season premiere of Archer. For season eight, Archer will be making some big moves. Not only will the highly irreverent comedy be moving from FX to FXX, but the narrative will be moving to 1940s Los Angeles... from whatever time period it normally takes place (nobody knows). 
Throughout its run, Archer has followed the exploits of a group of terrible people who have gone from intelligence agents to drug runners and back to intelligence agents and finally private investigators. Season seven focused on the group's investigation around actress Veronica Deane, and ended with quite the cliffhanger — Sterling Archer's apparent death. 
Of course, it was rather obvious that Archer's life would be saved in some form, as the series was renewed over the summer for an three additional seasons. Archer's fate was officially revealed at July's Comic-Con, as a trailer disclosed that the world's greatest secret agent would be in a coma. And it is inside his head that most of season eight will likely take place. Now, what is Archer dreaming of? Los Angeles, 1947, of course. 
Welcome to Archer: Dreamland.
For more on Archer's season eight premiere, and all of Archer: Dreamland, check out the official synopsis from FX:
Archer: Dreamland is an animated, half-hour comedy that revolves around the hardboiled private eye Sterling Archer and his quest to find his partner's killer in 1947 Los Angeles. The case proves to be more difficult than expected after Archer quickly gets mixed up in a deadly game of tug of war between Los Angeles' most powerful crime bosses. Every clue leads Archer further away from his goal and deeper into a mystery involving kidnapping, prostitution and drug addiction.
Need a little more Archer to hold you over? Here are a few news reel promos from FXX to get you in the noir mood. 
Mic has ongoing coverage of FX. Please follow our main FX hub here.