Trump defends Bill O'Reilly from harassment claims during Sexual Assault Awareness Month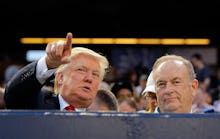 President Donald Trump defended Fox News host Bill O'Reilly regarding the multiple sexual harassment allegations levied against him, telling the New York Times in a sit-down interview in the Oval Office that O'Reilly is a "good person" who didn't do "anything wrong."
"I think he shouldn't have settled; personally, I think he shouldn't have settled," Trump said of O'Reilly, who cost Fox News at least $13 million to settle sexual and verbal harassment lawsuits. "Because [O'Reilly] should have taken it all the way."
O'Reilly's popular show on Fox News has lost more than a dozen advertisers since news of his sexual harassment settlements surfaced. Five women accused O'Reilly of sexual harassment, including one who claimed O'Reilly became hostile toward her after she refused to go to his hotel room in exchange for a contributor role on the network.
Trump's defense of O'Reilly comes after he personally declared the month of April to be "National Sexual Assault Awareness" month. Trump himself has been accused of sexual assault by at least a dozen women, and has bragged about how he kissed and grabbed women "by the pussy" without their consent in a leaked Access Hollywood tape from 2005.  
As Trump defended O'Reilly, he also accused former national security adviser Susan Rice of committing a crime in "unmasking" communications of Trump associates during the transition period.
Rice, who has denied any wrongdoing, has become the latest target of Republicans vying to find evidence of Trump's baseless wiretapping allegations against former President Barack Obama and his administration.
Trump provided no evidence to the New York Times to show Rice did anything wrong, yet still declared in the interview that the allegations against Rice will be "one of the big stories of our time."