Neil Gorsuch: Latest on Supreme Court confirmation, the Senate filibuster and more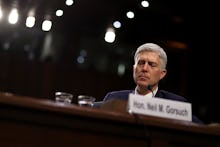 Over a year after Judge Antonin Scalia's death, the Supreme Court of the United States may be just days away from getting a new justice on its bench. Judge Neil Gorsuch is set to be confirmed by the U.S. Senate later this week — although Senate Democrats won't be letting him through without a fight.
The U.S. Senate voted 55-44 on Tuesday to begin formal debate on Gorsuch's nomination, with Sen. Majority Leader Mitch McConnell poised to put his nomination to a vote on Thursday.
Gorsuch's impending nomination comes at a contentious time, given FBI Director James Comey's recent revelation that the FBI is investigating President Donald Trump, who nominated Gorsuch, regarding his ties to Russia.
During Tuesday's Senate floor debate, Sen. Elizabeth Warren said:
I think it's crazy that we are considering confirming a lifetime Trump nominee to the Supreme Court at a moment when the president's campaign is under the cloud of an active, ongoing FBI counterintelligence investigation that could result in indictments and appeals that will go all the way to the Supreme Court — so that Trump's nominee could be the deciding vote on whether Trump or his supporters broke the law and will be held accountable.
"That is nuts, and I believe we should tap the brakes on any nominee until this investigation is concluded," Warren said.
Though unlikely to affect Gorsuch's nomination, the Senate vote will also come in the face of recent reports that Gorsuch may have plagiarized passages in his 2006 book The Future of Assisted Suicide and Euthanasia. In the book, Gorsuch mimicked passages from an article originally published in the Indiana Law Journal, all without proper attribution, BuzzFeed reported.
Senate debate
Since it began Tuesday, the Senate's debate on Gorsuch's nomination has been dominated by Oregon Sen. Jeff Merkley, who held the Senate floor for 15 hours to speak out against Gorsuch's nomination. 
Merkley's marathon speech, which stretched from approximately 6:45 p.m. Eastern on Tuesday to just after 10 a.m. Wednesday, was not technically a filibuster, the New York Times noted, as it would not serve to delay Thursday's vote.
During the overnight speech, the senator drew upon visual aids, such as a blown-up portion of the U.S. Constitution and a chart of election-year Supreme Court nominees, which drew attention to proposed justice Merrick Garland's withheld Senate vote. Though Republicans have pointed to the election year to justify not confirming Garland, Merkley's chart referenced six judges that had been confirmed during such a time.
Senate vote
The real filibuster will likely come on Thursday, when Democrats are expected to take the floor to challenge Gorsuch's nomination. Doing so would require McConnell to invoke cloture, which brings the filibuster to an end and allows a vote to take place. 
Cloture can only be invoked with 60 Senate votes — a majority that Senate Republicans, who currently hold 52 out of 100 Senate seats, don't have. Currently, three Democrats are set to back Gorsuch's nomination: Sens. Joe Donnelly of Indiana, Heidi Heitkamp of North Dakota and Joe Manchin III of West Virginia. Colorado Democratic Sen. Michael F. Bennet, the Washington Post noted, will oppose the filibuster, but has not yet stated whether or not he will vote in favor of Gorsuch's nomination.
This still leaves Republicans 4 votes shy of the 60 votes they need — and, potentially, Gorsuch's confirmation.
"Their base demands total war, total obstruction, and they are begrudgingly bowing to this demand. Unfortunately for them, it has proven difficult to invent attacks against an obviously well-qualified judge," Sen. Ted Cruz said about the Democratic filibuster, the Washington Post reported. 
Cruz, who once read Green Eggs and Ham as part of a 21-hour filibuster against the Affordable Care Act, proposed before the election that the vacant Supreme Court seat should remain unfilled "indefinitely" if Hillary Clinton had become president.
The "nuclear option" 
Democrats opposing Gorsuch's nomination have suggested that Trump and Republicans will need to go back and propose a different Supreme Court nominee to get the 60 votes they need. 
However, Republicans still have another way to get Gorsuch confirmed: the "nuclear option."
The nuclear option is a way of reinterpreting Senate laws to allow filibusters to end with a simple majority vote, rather than the 60 votes currently required. Democrats first invoked the nuclear option in 2013 for lower-level appointments following Republicans' obstructionism, but preserved the 60-vote majority for Supreme Court appointees. 
So far, it looks like that preserved 60-vote Supreme Court requirement won't last much longer. A number of Republicans have come out in favor of invoking the nuclear option in order to confirm Gorsuch. McConnell, the Washington Post noted, can invoke the last-ditch option with a simple majority vote.
If the nuclear option is invoked, the 60-vote requirement will still remain for votes on legislation, which McConnell told the Washington Post he would preserve. 
A Supreme Court majority vote change would likely have far-reaching implications in the future. This is particularly true for future nominees that fill vacancies left by left-leaning judges such as Ruth Bader Ginsberg, as these have the potential to tip the court's balance more so than Gorsuch replacing the conservative Scalia.
"There's a reason they call it the 'nuclear option,' and that is that there's fallout. And this fallout will be dangerously and perhaps disastrously radioactive for the Senate in years to come," Connecticut Sen. Richard Blumenthal told the Washington Post.