When will 'This Is Us' return? 6 things we know about season 2.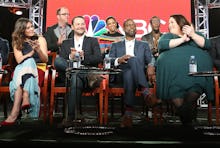 NBC's hit dramedy This Is Us was renewed for a second and third season. It's expected that the show will return to prime time in the fall, but there is no  release date yet. In the meantime while we wait for the next season to return, here is we're looking forward to seeing in the episodes ahead.
Season two will bring more laughs
The first season of This Is Us had many tearjerker moments. But the show's writers plan to lighten the mood of next season and bring more comedy to the plot. 
"People call the show a dramedy but we're going to lean into the [comedy] a little more," co-showrunner Isaac Aptaker said to CNN in March. 
"We were talking to [creator] Dan [Fogelman] for actually a few hours today about season 2 and we kept pitching things and then we'd say, 'That's too sad! Let's lighten up a little,'" co-showrunner Elizabeth Berger added.
There is more to each character
By the end of the first season, the audience has a great understanding of each of the main characters' flaws and strengths, but apparently there is still more to discover about each of them, Variety reported. "It's kind of an endless canvas," Glenn Ficarra, the show's executive producer said during PaleyFest.  
Will Jack and Rebecca make up before his death?
At the end of the season one finale, Jack leaves the Pearson's home after Rebecca demands him to following their big fight. Jack's drinking issues, which were a recurring issue in their marriage, is likely to come up again next season, actor Milo Ventimiglia, who plays Jack, predicted. 
"I know that we still haven't even really seen the extent of his father's drinking," Ventimiglia told People. "We kind of touched on it a little bit in episode 18, and then again a little bit previous to that, but I still don't think we've seen the worst of it, and Jack doesn't ever want to see the worst of it in himself."
We are also still left in the dark about the cause of Jack's death. We do know, based on previous episodes, that his death took place during their kids' teenage years. On season two, we expect to see what happens after Jack and Rebecca's separation and whether they have a chance to make up before he dies. 
Beth and Randall are adopting
Randall's early mid-life crisis has pushed on full speed ahead. The relationship with his dying father William brings him new life epiphanies and inspires him to quit his job, which isn't providing him complete fulfillment. 
Randall is also growing out his hair again. But the kicker for Randall is that he asks Beth to adopt a child. In the next season, we will definitely see how their relationship changes if they go ahead with a new addition to the family. 
Kate and Toby's future
Will Kate and Toby's relationship stand strong as Kate looks to pursue a professional singing career? Meanwhile, Kate is still having difficulty opening up to Toby about her father's death because she blames herself for the incident. Chrissy Metz, who plays Kate, confirmed that those details will further unfold.
"We don't know the answers but we'll know eventually," she told CNN. "More will be revealed."
Kevin's big move
Of all the characters, Kevin had the least stability throughout the first season. He went from quitting his job on a popular sitcom, to starring in a play in New York City, and now he's back off to the West Coast for a new movie role. 
While in the Big Apple, he made up with his ex-wife Sophie, but has left her hanging as he pursues another chapter of his life. Next season will surely fill us in on whether this was a move he may regret in the long run.
Mic has ongoing coverage of This Is Us. Please follow our main This Is Us hub here.