'Zelda: Breath of the Wild' Amiibo Rumor: Incoming character figurines hint at new unlocks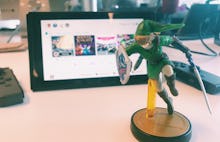 Amiibo functionality in Legend of Zelda: Breath of the Wild is one of the more useful amiibo features on a Nintendo system. Some games like Super Smash Bros. 4 lets you fight against your amiibo, while others like Fire Emblem let characters show up to your castle with gifts. In the case of Zelda: Breath of the Wild, amiibo let you fight alongside Wolf Link and grant you special weapons. The latest Zelda rumors hint that three new amiibo for the game are on the way. 
New Zelda: Breath of the Wild amiibos leak out
According to NinMobileNews on Twitter, three new Zelda amiibo have been entered into Best Buy's system. Their tweet claims the three unannounced amiibo can be found here, but the page has since been taken down — not before NinMobileNews nabbed a screenshot, however.
Each of the Nintendo amiibo products containing a different SKU hints at the fact that we are actually getting three new amiibo. Though with no image available or a release date, it's tough to say what exactly these amiibo will be. The product details of the amiibo, however, suggest there's a Zelda relation somewhere there.
Zelda: Breath of the Wild amiibo rumors: What will they unlock?
We've seen hints of three new amiibo coming to Legend of Zelda: Breath of the Wild in the past. Zelda Informer notes that a data mine of the game reveals three unknown amiibo. While we know which amiibo Zelda: BotW is referring to when it references "TableKing_Guardian" and "TableKing_Bokoblin," names like "TableKing30th_Link_Twilight," "TableKing30th_Link_Majora" and "TableKing30th_Link_Skyward" raise questions. These three could be what Best Buy added to their system. As to what they unlock in Breath of the Wild, that remains to be seen. 
Few details are known about these mystery amiibo, and we may not receive details until June at E3. Though with Best Buy entering them into their online database now, the leaked Zelda amiibo could potentially come even earlier.
Check out more Zelda: Breath of the Wild news and coverage
Find out all there is to know about Zelda: Breath of the Wild, including our running list of all the people of color in Hyrule. Learn how to preserve your items, how to beat bosses like the Stone Talus and Lynel, the best recipes for Link and how to take on the game's shrines. If you're looking to snag a giant horse with little stamina, here's how to do it. You'll also want to find out where all the great fairies are in the game, how to use amiibo with your version of Zelda and what went into making Breath of the Wild.