Ferguson re-elects James Knowles III, white mayor who denied city's "racial divide"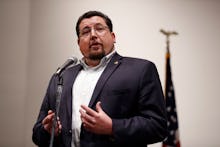 Voters in Ferguson, Missouri, on Tuesday reelected Mayor James Knowles III over challenger Ella Jones, a black city council member.
"We all want the same thing," Knowles, 37, said Tuesday after his victory, according to the St. Louis Post-Dispatch. "We're all here for the same purpose, which is our community."
Knowles was mayor of Ferguson during the unrest that erupted there in 2014, after a white police officer — Darren Wilson — shot and killed Michael Brown Jr., a black 18-year-old. 
During an interview with Tamron Hall on MSNBC shortly after, Knowles insisted that there was no racial divide in the city.
"There is not a racial divide in the city of Ferguson," Knowles said. "That is the perspective of all residents in our city. Absolutely."
The absurdity of this statement was highlighted in the weeks that followed, as black residents took to the streets and sparked a nationwide protest movement aimed at ending racism in law enforcement.
It was reaffirmed the following March, when the United States Department of Justice released a damning report on policing practices in the city. The findings revealed a pattern of racialized graft, where black residents were systematically targeted for traffic stops, citations and court fees to help bankroll the city's operating budget.
Ferguson is 67% black. Jones, 62, would have been the city's first black mayor, and was thought to be favored in Tuesday's election, the Post-Dispatch reported. Instead, residents opted to give Knowles a third term by a margin of 56% to 44%, despite being the face of the city during one of its most shameful hours.
"I have spent, really, the entirety of my time in office working to bring this community together to rebuild what had been damaged and destroyed," Knowles said during the campaign, according to the St. Louis Post-Dispatch. "I've been accused of many things by many people. I think most people who know me know those things are not true."