9 foods that seem too fancy to cook at home, but are actually pretty simple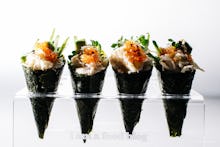 There are home foods and there are restaurant foods... but what if you could make both in the comfort of your own kitchen? You won't need to enroll in cooking school to create gourmet dinners and complicated dishes at home —just stop doubting yourself, follow the recipe and practice until you get that fancy dish right. 
Who knows, you may find yourself opening a restaurant in no time! Or at least cooking like you should. Try these intimidating recipes, and with a bit of practice, you'll see they're plenty simple to make at home. 
Risotto
Every Top Chef fan knows the risotto curse: Any chef attempting to cook risotto for the esteemed/picky panel of judges is probably going to be told to pack their knives and go. Not anymore! Risotto may not be as easy to whip up as Rice-A-Roni, but with a timer, patience and a recipe, you can master this delicious and not-at-all-cursed rice dish. Be sure to use arborio rice, which can be more expensive than plain Jasmine rice, but the end result is worth it. Get the recipe here. 
Sushi 
Crafting your own spicy tuna rolls may seem challenging, but with the right ingredients, you can totally roll at home. Get the recipe here. 
Poké
Another deceivingly complicated dish. You may not have considered creating this trendy Hawaiian raw fish salad at home, but it's totally doable — just see what fresh fish your local fish market has in stock and start chopping! Get the recipe here. 
Lobster
Long before lobsters were the priciest proteins on the restaurant menu, these crustaceans were served to East Coast prisoners. And if a commissary kitchen can prep a lobster, so can you. Get the recipe here. 
Homemade tortellini  
Take a break from the packaged stuff and make some time for folding up some fresh pasta. This recipe calls for ricotta and spinach, but that's only the start of your filling options once you get the hang of this Italian craft. Get the recipe here. 
Eggs Benedict 
Whether it's the poaching process or the hollandaise sauce that has you skipping out on making this brunch staple at home, let your fears melt away. This egg dish can be yours in the comfort of your kitchen — all you need is a bit of patience and some close attention to detail. (No need to don any kind of brunch-appropriate attire; pajamas will do). Get the recipe here.
Roast chicken
If you always order chicken out because you haven't mastered cooking it at home, it's time to try again. This foolproof recipe serves four and comes with instructions for a succulent gravy. You can't go wrong. Get the recipe here.
Grilled octopus with lemon-sherry vinaigrette 
We can totally understand why these tenacious tentacles might throw you off — they don't look easy. But with the right cut of protein from your fish market and proper cleaning, prepping your own grilled octopus at home can be a cinch. A simple, Greek-inspired dressing makes for a perfectly light dish. Get the recipe here. 
Fettuccine Alfredo 
Is it the fancy sounding name that deters you from mixing up this pasta dish? Or its heavenly cream sauce? Whatever the case may be, the time is nigh to prep your own fettuccine Alfredo. This recipe's healthier version actually relies much on cauliflower for its creaminess, which is good because, once you've made it once, you'll probably want to start putting the sauce on everything in sight. Get the recipe here.