Trump's evasive news conference on Syria leaves Americans in the dark as to his plan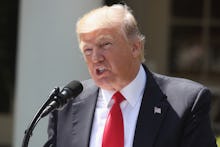 President Donald Trump called the chemical attack in Syria an "affront to humanity" during a Wednesday news conference with Jordanian King Abdullah II in the White House Rose Garden.
But while Trump said the attack "crossed many, many lines" for him, he refused to commit to whether that means he'll launch an attack against Syrian President Bashar al-Assad's regime.
"I'm not saying I'm doing anything one way or the other, but I'm certainly not going to be telling you," Trump told reporters.
At the news conference, Trump criticized former President Barack Obama's failure to take decisive action after Assad was accused of a massive chemical attack in 2013. Obama had declared that a "red line" for his administration would be a chemical attack by the Syrian dictator, then Assad launched a 2013 attack deploying chemical weapons in a Syrian town called Ghoutta, where the U.S. said more than 1,400 were killed. 
Instead of a military attack, the Obama administration responded with a diplomatic push that led to an agreement for Syria to get rid of its chemical weapons — but Assad's forces continued to face allegations of using chemical weapons.
Trump said on Wednesday that Obama made empty threats that "set us back a long ways." But Trump seemed to fall into a similar trap, saying Assad's actions crossed a line but refusing to commit to using force.
"I like to think of myself as a very flexible person," Trump said. "I don't have to have one specific way, and if the world changes, I go the same way. It's already happened, that my attitude towards Syria and Assad has changed very much."