Donald Trump and Xi Jinping: What to expect from Trump's Mar-a-Lago meeting with China's president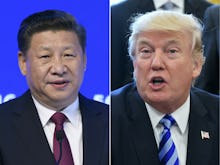 Chinese President Xi Jinping will arrive in the United States on Thursday for a two-day summit with President Donald Trump at his Mar-a-Lago estate in Florida.
This meeting follows a visit to China by Secretary of State Rex Tillerson, whose tone the New York Times described as "conciliatory."
Trump has never met the president of China, although the two had a phone conversation Feb. 8, during which Trump promised the Chinese leader the United States would honor the One China policy. The phone call took place after a diplomatic gaffe on Trump's part, when he spoke with Taiwanese President Tsai Ing-wen. 
The approach to China by the Trump administration has been a point of constant speculation, due to the unusual nature of Trump's singular focus on the country throughout his presidential campaign and reality TV career.
Trump has a long history of attacking China on economic grounds
A consistent theme of Trump's presidential campaign was his pointed criticism of China. His incessant discussion of the country became a widespread point of public satire, thanks to the emphatic way he pronounced the country's name.
"We can't continue to allow China to rape our country, and that's what they're doing," Trump said on the campaign trail, railing against the country as an alleged currency manipulator who was "killing" the U.S. on global trade. "We're like the piggy bank that's being robbed."
Trump's attacks on China predate his presidential campaign. "No surprise that China was caught cheating in the Olympics," he tweeted in 2012. "Lie, cheat and steal in all international dealings." 
Trump called China America's "biggest abuser" in 2016:
We're like their whipping post, the United States. We have people who don't understand the system. We have people that don't get it. We are being ripped by many countries, China being the No. 1 abuser. They do it better than anybody else.
His rhetoric on China seemed to cool off after his inauguration. But he'll still want to prove his "very big relationships" with China are more than hot air.
North Korea may overtake trade discussion, which become bargaining chip
Amid wide reports of North Korea's growing nuclear ambitions, Trump made a remarkable declaration to the Financial Times: "If China is not going to solve North Korea, we will."
Trump went on to say:
China has great influence over North Korea. And China will either decide to help us with North Korea, or they won't. And if they do that will be very good for China, and if they don't it won't be good for anyone.
When asked what incentive China had to help the U.S., the president responded that trade was at stake, seeming to threaten a trade war.
His strategy makes little sense, considering his aforementioned diplomatic gaffe of violating the One China policy before quickly retreating. His tough talk about China's role in resolving the North Korea issue and possible unilateral U.S. action is already being described as a possible bluff that could hurt U.S. standing with the country.
Xi has a vested interest in succeeding with Trump
The 19th Chinese Communist Party Congress will convene later in 2017. How Xi performs on U.S. relations will impact his ability to secure power going forward.
Per Foreign Policy, the roles of China and the United States seem to have inverted themselves:
Washington used to lecture China on the need to uphold the global order, play by the rules and take action on big transnational problems like climate change. Since Trump's election, though, Beijing has cast itself, at least rhetorically, as the defender of the existing international order, including free trade, and has willingly grabbed global leadership in the fight against global warming that the Trump administration has abdicated.
Meanwhile, Trump has to manage the appearance of having a coherent China policy and relationship with the country that shows concrete results, even as his bluster is put to the test on the international stage.