When does 'House of Cards' return? Here's when Netflix's hit show is back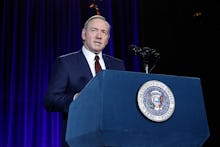 For those seeking reprieve from real-life American politics, an escape can be found May 30 when the fifth season of House of Cards is released on Netflix. 
The date was announced with a chilling video: a chorus of children's voices recite the Pledge of Allegiance while an American flag flaps in the wind against an overcast gray sky. Underneath the image, the words "We make the terror" are featured. 
Beau Willimon's political drama, which will continue without the creator as showrunner in the coming season, has chronicled the ambition and adventures of ruthless politician Frank Underwood, played by Kevin Spacey, and his equally calculating wife, Claire, played by Robin Wright. The two have pursued their political dreams in Washington, D.C., refusing to permit anyone or anything to obstruct their path. 
The fourth season, which Mic's Chris Riotta declared the "most feminist season yet," concluded with Claire breaking the fourth wall when she aligned with her husband. The two decided to create a culture of fear in the United States, and President Frank Underwood said, "We don't submit to terror. We make the terror." 
Power and sex have always been intertwined on House of Cards, which is considered one of the sexiest shows on television. This is thanks to Frank and Claire's complicated relationship, which will face challenges in the upcoming season. 
If a refresher course is needed before May 30, seasons one through four are summarized here. 
Mic has ongoing Netflix coverage. Please follow our main Netflix hub.