North Carolina trying to legislate its bathrooms again less than a week after HB2 repeal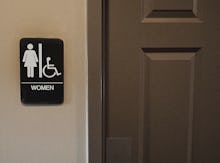 If at first you don't succeed, dust yourself off and try again. 
Less than a week after North Carolina's lawmakers repealed the controversial bill HB2, one North Carolina Republican has put access to state bathrooms back on the agenda. 
Co-sponsored by Rep. Brendan Jones, the bill, filed Tuesday, enhances the punishment for "second-degree trespass" to a class 1 misdemeanor instead of class 3. 
In a Facebook post, Jones said the reclassification of trespassing means people who violate the law can face up to 120 days in jail rather than just 10. The language of the bill does not mention sex or gender, though Jones' post about the bill mentions privacy, and that he "absolutely against allowing men and women to share restrooms or changing facilities." 
"I am a father of two young daughters, and I would not support a bill that I felt in any way would put them in danger," Jones said. "I hope you will support [fellow co-sponsor Sen. Danny Earl Britt Jr.] and me as we pursue passing stronger language to ensure proper punishment of violators." 
Jones' bill seems to be taking advantage of the new legal landscape in North Carolina. As he states in his Facebook post, the HB2 repeal bill, which was much maligned by the LGBTQ community, not only repealed the bill, but also barred cities from creating equal protection ordinances until 2020 or legislating bathrooms ever, leaving the door open to the exact kind of legislation Jones has put forth. 
North Carolina Democratic Rep. Debra Butler told Mother Jones that the bill is a retaliatory act for the state's HB2 repeal. 
"A faction of the Republican Party here in North Carolina is angry that HB2 was repealed," Butler told Mother Jones. "They wanted it, they liked it just the way it was. This is, I am sure, their attempt to thumb their nose at the compromise." 
In a statement to Mother Jones, North Carolina Gov. Roy Cooper, who signed the HB2 repeal bill, came out against the trespassing law. 
"The governor is not supportive of efforts such as these as he believes we ought to be working to expand statewide protections for LGBT North Carolinians," Ford Porter, a spokesman for Cooper, said.