'RuPaul's Drag Race' episode 3 recap: Which queen went home after a Bonnie Tyler lip sync?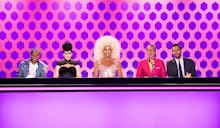 Give it up to the editors of RuPaul's Drag Race: Friday's episode was a sharp, smart hour of TV. The third installment of the reality competition's ninth season was packed to the gills with so much humor, heart and action that it made the relatively weak premiere feel like a distant memory.
The episode starts simply enough: After Valentina won last week, the girls are gunning for her crown — especially Trinity Taylor. They're handed a fairly complex main challenge (what happened to mini-challenges?) that has a remarkable number of components while we still have 13 queens in the race.
"You need to create a totally original fairy-tale princess," RuPaul says, challenging the girls to not just put together an outfit, but create a story for the character. "You'll need to design a fantasy frock ... [and] you'll also be creating a sassy sidekick. And you'll be playing both parts."
Yes, it's the first design challenge of the season, and some of the queens are already shaking in their thigh-high boots. Frankly, it's astonishing to hear Vegas girls Kimora Blac and Farrah Moan talk about how they can't sew — brag about it, in Kimora's case, as she talks about preferring to pay designers for work and without shame calls herself "a spoiled drag queen." 
As Aja points out, this is season 9. A hundred girls have come through that workroom, and every season, the contestants are asked to assemble an outfit. There's no excuse to not know how to convincingly put together a design, with or without sewing skills. If Sharon Needles could win season 4 without knowing how to sew, these girls can make it work.
Considering Trinity Taylor is from Orlando, it was probably inevitable that we'd see a conversation about the Pulse nightclub shooting at some point this season, and we get it in this episode. It's handled with great reverence and grace, even after Eureka asks Trinity about it somewhat out of the blue.
The queens who have an emotional connection to that club share their stories: Trinity is a former Miss Pulse who was there the week before, while Cynthia Lee Fontaine was scheduled to be there that night, but rescheduled. A friend who came to see Cynthia at the club was one of the victims.
Ultimately, thanks to Sasha Velour's rallying cry about the power of drag to heal, the moment is played as an empowering one. Drag Race handled this deftly, giving the girls just enough time to reflect without becoming funereal.
Meanwhile, on a lighter note, we finally get the story of why Cynthia refers to her rear as her "cucu." Apparently, it was a playful way to avoid saying something crude to her mother when she was younger, and it stuck. She tells it with such goofy charm that it's almost forgivable how much she uses "cucu" every episode. (You'll be shocked to learn her princess is named "Cuculina.")
The challenge itself delivers everything from brilliance to disaster — and that's just on the judges' panel! Todrick Hall returns from being the worst judge on All Stars season 2, wearing half-hearted king drag that pales in comparison to Michelle Visage's perfect evil-queen look. Regular judge Carson Kressley and actor Cheyenne Jackson make up the rest of the panel, and they are thoroughly fine at their jobs.
Among the queens in the safe group, we'll give a shout-out to the Ru-christened "Nina Bo'Nina Brown Pinkett Smith" for her alien drag that likely gets passed over for feeling too expected from this season's queen of weird. That said, it's executed well, as is Eureka's sewer princess. Eureka's dog sidekick, "Woof Trade," is also pretty genius.
MVP of the runway presentation is Ru, who makes a Mae West-esque "Why don't you come up and seaweed me sometime?" joke about Shea Couleé's underwater princess drag, and gets zero response from the other judges. Her quiet sadness over her joke bombing is priceless.
Valentina rocks the runway again as an ice princess, and brings the humor as her hateful sidekick. "Three for three," Michelle says during the judges' deliberations, and it's true: No other girl is serving as consistently as Valentina is so far. While presumed frontrunners like Sasha and Nina have mostly stuck to the background since the premiere, Valentina is taking the spotlight and running with it.
That said, I do worry she's getting credit — from the judges, from fans, from me — for beating low expectations. I was hesitant to admit this, but she does seem more impressive because she's only been doing drag for 10 months. Valentina reminds me of Anya Ayoung-Chee, champion of Project Runway's ninth season, who rode a narrative of having only been sewing for four months all the way to the win. Looking at Anya's work on its own, especially stacked up to the franchise's other 14 winners, and it's hard to argue for her victory; she's just not interesting enough as a designer separate from her story.
Valentina's output so far is way better than Anya's was at any point during her run on Project Runway, and I stand behind the argument that her win last week was totally earned. But it's something to keep an eye on, to say the least.
Anyway, it's Trinity who wins the day this time around, and it's a well-earned win. She's super funny as her own starfish sidekick, while her nautical princess look involves a sexy reveal she nails well. That's harder to do than it looks — just ask Charlie Hides.
Even after her top-three finish last week, I was not quite on board with Trinity, but her performance this episode made me a believer. She and Eureka look like they're going to take the light rivalry teased in the premiere all the way if they can, just like Alyssa Edwards and Coco Montrese did in season 5.
Peppermint earns what feels like a de facto third place for her pyrotechnics-inspired princess, but all of the members of the bottom three totally blew it. Frankly, any one of them would be a worthy eliminee. Farrah Moan is the one who winds up avoiding the bottom two, and that's — well, let's just ask her. Hey, Farrah, what do you think of your own outfit?
Yeah, this non-equity production of The Little Mermaid costume was rough, and her very unnecessary tears on the runway were reminiscent of her Las Vegas sister and season 8 queen Derrick Barry. These Vegas girls are not stepping up so far, though at least Farrah's Princess Bubblina inspires a great summary from Ru: "I hate to burst your Bubblina, but your blowfish blew."
Aja falls into the bottom two, and the other queens are downright shook upon hearing it. There are audible gasps that the queen whom Sasha declared a huge up-and-comer — and Lady Gaga said would "surprise" us — could possibly be in the bottom two of only the third episode. It's easy to see why Aja has fans — she's got a good attitude and she's fun — but it's becoming very clear what she does isn't going to connect with the judges. 
When Michelle Visage insists her volcano princess look made no sense, Aja's response is to ramble about her character being from Brooklyn and hitting the clubs. Michelle is unamused. The same chill vibe that works for her in her day-to-day work is only going to annoy the judges on the Drag Race main stage.
Part of Aja's problem, I think, is that while she does generate a lot of excitement from her fellow queens and fans, that energy has seemingly convinced her that her shit don't stink. To say she's going to churn something "extremely avant garde and high fashion" out and then deliver bright-red chaps on the runway, demonstrates a real lack of self-awareness. Sure, maybe Farrah deserved bottom two more, but Aja's insistence of that fact ignores that she also turned out a truly terrible performance in the challenge.
Aja's obliviousness is only amplified when she says she looks "almost the same" as her Instagram photos as she does in real life. Put bluntly, Facetune and filters are her friend online, and her terrible makeup is betraying her on Drag Race. I feel somewhat badly for knocking her on it, because part of the problem is her skin and HD cameras aren't forgiving. But nothing is made better by boasting about her looks when the proof is in the pudding.
All that said: No one gets scorned by the judges the way Kimora does. After presenting a terrible riff on Tarzan for her princess outfit, and rightly getting read for it, she explains that she feels like she's been hiding behind her breastplate and padding in the past, and she's struggling.
Michelle Visage takes exactly 0% of this bullshit. "I think we all need to take a moment to talk about the bravest struggle of all: coming out here and telling us about her struggle with not wearing hip pads," Michelle says, acid practically dripping from every sarcastic word. Ru delights in the bitchiness.
Combined with her whining earlier, Kimora has quickly made herself one of the least likable contestants since season 5's Serena ChaCha talked about soft sculpture and encouraged her fellow queens to "pick up a book and read" and discard their "ghetto lexic." Kimora seems to have a decent heart somewhere underneath all the artifice, but she's not gonna last long enough in this race to prove that.
Indeed, as soon as the lip sync to Bonnie Tyler's "Holding Out for a Hero" starts, it's clear Kimora is about to be blown away. While the self-professed body queen tries to sex it up while constantly missing words, Aja straight-up murders the song, turning out spinning splits and death drops but never forgetting to actually interpret the lyrics.
It's one of the best debut lip-syncs since Trinity K. Bonet stormed the stage in season 6 to perform "I'm Every Woman." Aja's work surely endears her to Ru, too. If she can turn out the performance challenges and fix her makeup at least a bit — or at least admit her faults — she may make a run of this Race.
Kimora sashays away in her roadkill mess of a dress. We will not miss her.
We're left with 12 queens to battle it out — who will go next? The next episode of RuPaul's Drag Race airs Friday at 8 p.m. EDT on VH1.
Mic has ongoing RuPaul's Drag Race coverage. Follow our RuPaul's Drag Race main hub.