Netflix has a new rating system that's a lot like Tinder. Here's a look at how it works.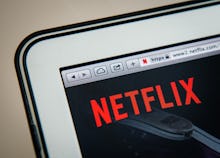 Netflix announced that their brand new ratings system will be similar to dating apps, according to a video the company released on YouTube Wednesday. The streaming service's platform will be booting its old star-based rating system for its content and transitioning to a thumbs-up/thumbs-down system. 
"Netflix will find shows and movies that seem like a fit," the video states. "Then you can decide if it's true love or not. This helps Netflix get to know you better." By clicking thumbs up if you like a show or clicking thumbs down if you don't, the platform will be able to bring you "smarter, more personalized, recommendations."
Previously, Netflix used a star-based system to showcase whether a viewer might enjoy a particular series or film, which may have given viewers the impression that a show's rating was based on a voting system. "So you might have seen one star for House of Cards, but your politics-obsessed cousin could see five," the video added. "Which is why we found a better way to help you find the perfect match."
Netflix ratings are still the same in that they are based on viewer habits, not popularity. But with this added feature, viewers are able to give better feedback, making "what should I watch?" a much easier question to answer.
Mic has ongoing Netflix coverage. Please follow our main Netflix hub here.