What Melania Trump wore her 11th week as first lady — official portrait and beyond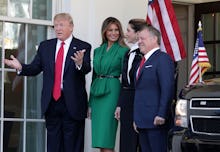 It's been a big week for Melania Trump. At last, she was awarded her first official White House portrait, but of course conspiracy and controversy followed soon after. 
In any case, this has been a remarkably active week for the first lady, with not just a portrait reveal but outings with Queen Rania of Jordan and meetings with the first lady of China too. We can also say for the first time as first lady, Trump has surprised us this week with her fashion choices. Imagine that. 
This is what she wore this week:
Monday, April 3: Dolce & Gabbana for her first White House official portrait
This is not exactly an appearance for Trump, per say, but this official White House portrait did create quite a few stories in regards to what she's wearing, so we figured it's best to include it. 
For anyone who's paid attention to Trump's campaign, you know that he's all about buying American, and hiring American. But when it comes to Melania Trump's clothes, even when she poses for official portraits like this one, no American designers are in sight. 
For her portrait, she wore an Hermès scarf around her neck, and a Dolce & Gabbana jacket. That's a French brand and an Italian brand, with Italian designers, for those out there paying attention. 
According to Vanessa Friedman at the New York Times, this is notable. Sometimes, of course, a jacket is a jacket for Trump, but for a portrait like this one, it feels bigger than that. "This time she has worn a non-American brand on an occasion that has the sole purpose of immortalizing a public representation of her role," Friedman wrote. 
Whether or not it was a signal she's really not the kind of first lady who's going to prioritize American designers, though, it's still well within her rights to wear what she wants, and that appears to be what's she's doing. 
Wednesday, April 5: Green Hervè Pierre to meet Queen Rania 
For a woman who most often wears red and white and beige and black, this green ensemble on Wednesday was a bit of a shock. 
For meeting with Queen Rania, the wife of King Abdullah II of Jordan, Trump wore a green dress and matching scarf with a belt at the waist that created a cinched effect. According to the Telegraph, Trump worked on this one with Hervè Pierre, the French designer who she worked with for her Inaugural Ball gown. 
As far as silhouettes go, this is definitely within the Melania Trump canon, with her love of cinched waists and pencil skirts. The color though was a departure, and an exciting one. 
Thursday, April 6: A '50s look for a White House event 
On Thursday, Trump surprised us once more, showing up to a Wounded Warrior Project event at the White House in her own take on a 1950s housewife, wearing a long, flared black and white textured dress with tiny white bows and a large black belt, by Alexander McQueen. 
The designer of the dress is still unknown, but, as per usual, she wore Christian Louboutin heels. 
Thursday, April 6: A red dress to meet China's first family 
Two appearances in one day. What a treat. 
For this appearance, Trump showed signs she understands the diplomatic power fashion can have when you are first lady. For meeting Chinese President Xi Jinping and China's first lady, Peng Liyuan, Trump wore bright red: a hugely popular and symbolic color in China that represents good luck, celebration and happiness. 
The dress itself, which had tiny appliques across it, was designed by Valentino, someone Trump hasn't worn yet as first lady. 
Friday, April 7: A navy jumpsuit to visit a school
Let this week go down as officially the most active week for Melania Trump. On Friday, she visited a school in West Palm Beach, Florida, with China's first lady, Peng Liyuan. 
For this occasion she wore a navy jumpsuit by a currently unknown designer, and paired it with a white, floral scarf by Hermès, which incidentally matched Liyuan's white silk ensemble. This isn't the first time Trump's donned a jumpsuit either, wearing a white one by Ralph Lauren on election night too. 
With all these new colors and silhouettes, could this be the start to a Melania Trump fashion revolution? We certainly hope so. 
You can see previous recaps of what Melania Trump wore here.