Sen. Kamala Harris: Justice Gorsuch would do real harm — especially to American women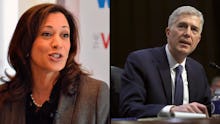 The U.S. Supreme Court stands across the street from the Senate where I'm proud to serve. And above its doors are the words "Equal Justice Under Law."
United States senators have a solemn responsibility to ensure that every man and woman who sits on that court upholds our ideals and that ideal. I take that responsibility extremely seriously.
I know from personal experience just how profoundly the court's decisions touch every aspect of Americans' lives. Almost two decades after the Supreme Court's landmark ruling in Brown v. Board of Education, I was part of only the second class to integrate the Berkeley, California, public schools. If that court had ruled differently, I likely would not have become a lawyer, or a prosecutor, or a district attorney, or the attorney general of California, and I certainly would not be a United States senator.
Judge Gorsuch went through four days of hearings in front of the Senate Judiciary Committee. Here's what we learned: We learned that Judge Gorsuch refused to answer the most basic of questions. He initially even refused to share his views on Brown v. Board of Education. We learned that Judge Gorsuch has a deeply conservative worldview. And we learned that Judge Gorsuch interprets the law in a theoretical bubble, completely detached from the real world. As he puts it, "focusing backward, not forward."
If Judge Gorsuch joins the United States Supreme Court, his narrow approach would do real harm to real people — especially the women of America.
America deserves a Supreme Court justice who will protect a woman's right to make her own decisions about her own health. Judge Gorsuch won't. Judge Gorsuch has carefully avoided speaking about abortion. But he's clearly demonstrated a hostility to women's access to health care. Last year, when the court he sits on sided with Planned Parenthood, Judge Gorsuch took the highly unusual step of asking the court to hear the case again. Judge Gorsuch also determined that a 13,000-person for-profit corporation was entitled to exercise the same religious beliefs as a person — meaning that the company did not have to provide employees birth control coverage and could impose the company's religious beliefs on all of its female employees. Why does Judge Gorsuch believe that corporations deserve full rights and protections, but women don't?
Why does Judge Gorsuch believe that corporations deserve full rights and protections, but women don't?
Americans deserve a Supreme Court justice who will protect the rights of women in the workplace. Judge Gorsuch won't. In employment discrimination cases, Judge Gorsuch has consistently sided with companies against their employees. These employees include women like Betty Pinkerton. The facts of her case were undisputed. Her boss repeatedly asked her about her sexual habits and breast size and invited her to his home — then fired her when she reported his sexual harassment. Judge Gorsuch ruled against Betty. Why? Part of the justification that he offered was that she waited two months before reporting the harassment.
Judging by his record, if Judge Gorsuch becomes Justice Gorsuch, women won't be the only ones facing setbacks. Take Luke, a young boy with autism, whose parents sought financial assistance after switching him from public school to a school specializing in autism education.
Judge Gorsuch ruled that the minimal support Luke received in public school was good enough. And in the middle of his Senate hearing two weeks ago, the Supreme Court unanimously ruled that Judge Gorsuch was wrong on the law.
Judge Gorsuch may have an Ivy League credential, but his record shows that he lacks sound judgment to uphold justice. He ignores the complexities of human beings — the humiliating sting of harassment, the fear of a cancer patient or a worker who feels his life's in danger. He has repeatedly failed to show that he fully understands those important words — "Equal Justice Under Law." For the highest court in the land, we should find someone who does.
Today I will fight to block the nomination of Judge Neil Gorsuch, and when the time comes, I will vote against his nomination.