Michael "Tiger Mandingo" Johnson, convicted of spreading HIV, will get new trial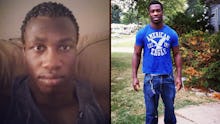 On Tuesday, the Missouri Supreme Court upheld a decision by a lower court to throw out the conviction of Michael Johnson, the Missouri college wrestler known as "Tiger Mandingo" who was sentenced to 30 years in prison for "recklessly" infecting one person with HIV and exposing four others to the virus, BuzzFeed reported. 
In December, a Missouri appeals court found "fundamental unfairness" in Johnson's original trial, as prosecutors withheld evidence — tapes of phone calls Johnson made from prison — from the judge until the morning of the trial. By withholding evidence, the prosecution "prevented Johnson from preparing a meaningful defense." 
After the court reversed Johnson's conviction, the prosecution appealed that decision, but Missouri's highest court declined to hear the case. According to BuzzFeed, the court declined to comment on why it did not take the case. 
Johnson is still in prison. 
"We're prepared to try the case again," St. Charles prosecuting attorney Tim Lohmar told BuzzFeed. 
Eric Selig, who will represent Johnson in the future, told BuzzFeed that Johnson will be brought back to St. Charles County, where he will have a bond hearing and either negotiate a plea bargain or face a new trial. 
In December, when the conviction was overturned, Scott Schoettes, HIV  project director at Lambda Legal, called HIV criminalization laws the "real barrier to justice."
"The criminal law is far too blunt an instrument to address the subtle dynamics of HIV disclosure," Schoettes said. "Willingness to be open about HIV status will be created only by the destigmatization of HIV and policies that ensure people living with HIV are not singled out for discrimination or special prohibitions and punishments. Prosecutions like this — under antiquated laws like Missouri's — take us in the opposite direction."  
The U.S. Department of Justice called for states to revamp their HIV criminalization laws in July 2014. Thirty-three states continue to criminalize HIV nondisclosure. Advocates for reform maintain that HIV criminalization laws are overly harsh and increase the stigma against HIV.