'New York Times' posts correction clarifying Ivanka is not Donald Trump's wife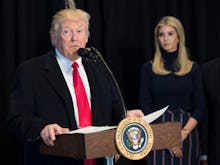 A Wednesday New York Times article documenting the number of days President Donald Trump has visited his own Trump-branded properties now features a conspicuous correction on a point of very public contention: What, exactly, is his relation to Ivanka Trump?
"Because of an editing error, an earlier version of this article misidentified Ivanka Trump as President Trump's wife," the Times wrote. "His wife is Melania. Ivanka is one of his daughters."
Trump is married to Slovenian immigrant and former fashion model Melania Trump, and has four adult children: Donald Jr., Eric, Ivanka and Tiffany. He additionally has one younger son, Barron, his only with Melania.
Ivanka is not the first lady, just a senior adviser in the White House, though it's understandable how the error got into the paper. The president's first wife was Ivana Trump, Ivanka's mother, although he has also at times professed "that if Ivanka weren't my daughter, perhaps I'd be dating her."