Report: Steve Bannon threatened to quit amid power struggle with Jared Kushner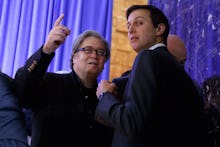 Steve Bannon, the former chief of far-right news site Breitbart who landed a job as President Donald Trump's campaign manager and chief strategist, reportedly threatened to quit his job in the administration amid a battle with members of Trump's family over his influence.
According to the New York Times, Bannon was furious over his Wednesday removal from a top post on the National Security Council, "even threatening to quit if it went forward, according to a White House official, who, like others, insisted on anonymity to discuss internal deliberations." The power struggle over Bannon's much-vaunted influence in the administration came as top advisers including Trump's son-in-law Jared Kushner and his wife, Trump's daughter Ivanka Trump, "complained about setbacks on health care and immigration."
The Times also noted Bannon has lately "been conspicuously absent from some meetings."
Bannon-aligned officials insisted he had only been assigned to the council to keep an eye on former national security adviser Michael Flynn, the Times reported. In their telling, Bannon's role on the NSC thus became unnecessary after Flynn resigned in disgrace following revelations he lied to other officials, including Vice President Mike Pence, over a phone call with a Russian ambassador.
That, however, would seem to directly contradict prior accounts Bannon had been assigned to the NSC without Trump's knowledge, or that he used the opportunity to massively expand his influence on national security issues.
Bannon is controversial to say the least. His tenure at Breitbart saw the site barrel to the fringes of the conservative movement and flirt with white nationalist rhetoric, and he was deeply involved in extreme administration policies like Trump's de facto Muslim ban and immigration raids. One of Bannon's favorite books, 1973 French novel The Camp of the Saints, is a racist screed against mass immigration.
The Times noted George W. Bush-era deputy national security adviser James Jeffrey cautioned against assuming Bannon has totally fallen from grace, saying "He seems to be very close to the president, and, by most accounts, still wins many of his battles."
But Bannon's apparent demotion comes as Kushner has taken on sweeping powers within the administration, from going to Iraq to meet with security officials and spearheading foreign policy initiatives to heading a task force called the Office of American Innovation. Kushner's massive policy portfolio, coupled with his total lack of prior experience in government, has earned him the somewhat mocking nicknames such as, "secretary of everything" and "deputy president."
The Times report also underscored the internecine battles and "palace intrigue" within Trump's White House, as well as the president's possible over-reliance on a small circle of advisers which includes several members of his own family. Another top official, chief of staff Reince Priebus, is reportedly also in shaky standing.
Some reports have indicated Kushner is attempting to push the president into a more moderate reset of his administration in alliance with figures like the White House's lone powerful Democrat, economic adviser Gary Cohn. That's a daunting task, given continuing crises like House, Senate and FBI investigations into Trump's possible collusion with the Russian government. Kushner would also have to do one better than every prior attempt to revamp Trump's image — all of which have apparently failed, given the president's appalling 35% approval rating.